Prolegomena to Any Future Metaphysics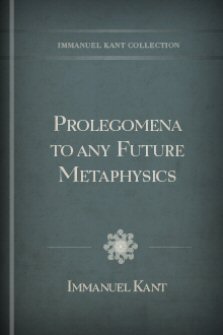 Overview
Published after Critique of Pure Reason, Prolegomena to Any Future Metaphysics restates and summarizes many of the main arguments. Kant also applies what he calls an "analytic" method, with a view to making his ideas clearer. The book also argues for the importance of Critique of Pure Reason and rebuts a negative review.
The Noet edition of this volume is fully indexed and tagged, allowing for near-instant search results. With the Noet edition, key words and ideas are linked to other texts in your library. Compare Kant with both the rationalists and the empiricists with a click. Further, every word is indexed, allowing you instant access to any phrase or idea you want to read about.
Key Features
Summarizes the main points of Kant's Critique of Pure Reason
Features an essay on Kant by the translator, Paul Carus
Includes articles studying Kant's life and philosophy
Contents
Kant's Prolegomena
Essay on Kant's Philosophy by Dr. Paul Carus
Supplementary Materials for the Study of Kant's Life and Philosophy

Kant's Life and Writings
The Critique of Practical Reason and the Critique of Judgment
Kant's Views on Religion
Kant and Materialism
Kant and Deism
The Kantian Philosophy
Hostile Estimate of Kant by a Swedenborgian
Facsimile and Translation of a Letter of Kant to His Brother
Chronology of Kant's Life and Publications
About Immanuel Kant
Immanuel Kant (1724–1804) was born in Königsberg, Prussia, in a Pietist Lutheran family. He attended the University of Königsberg, becoming a lecturer there after graduation. In 1770, he accepted the chair of logic and metaphysics at Königsberg. He published and taught a variety of subjects, but focused on metaphysics and its relationship to physics and mathematics. He was heavily influenced by the writings of Leibniz, Newton, Hume, and Rousseau, drawing on both the empiricist and the rationalist schools. He wrote works of metaphysics, epistemology, ethics, aesthetics, and teleology. His revolutionary contribution to philosophy is his argument that human knowledge of the world comes from sense experience but is shaped by innate structures inherent in human reason.
Reviews
What other people are saying about Prolegomena to Any Future Metaphysics.