Organic Leadership: Leading Naturally Right Where You Are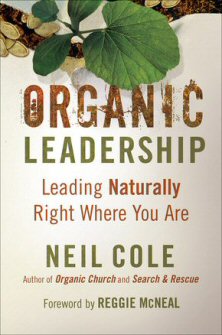 Overview
What are the weeds that hinder the natural growth of godly leadership? Are programs, people, and money truly the signs of a successful church? Where can you find an unlimited source of leaders? How do you mentor leaders so that they multiply? In Organic Leadership, Neil Cole asks these questions and more, boldly challenging many of the ideas about leadership and church life that we all take for granted. Then he reveals how to grow leaders that multiply naturally.
Perfect for students, pastors, church leaders, and laypeople alike, the Logos edition of this volume is fully searchable and easily accessible. Scripture passages link directly to your favorite Bible translation, and important theological concepts link to dictionaries, encyclopedias, and a wealth of resources in your digital library.
Key Features
Challenges traditional ideas of leadership
Presents ideas on how to grow leaders who will naturally spread leadership
Contents
Section One: The Counterfeit Kingdom of Outside In

On Being Institutionalized
Slaves Are Made in Such Ways
Pharisaism Today
Still in the Dark Ages
Bound by the Chain of Command
Viewing Life through Faulty Lenses
Parasites on the Body of Christ

Section Two: The Inside-out Kingdom

The Secret Source of Leaders
Organically Grown Leaders
Leadership Success

Section Three: The Upside-down Kingdom

The New "Up" Is "Down"
Lead, Follow, and Get Out of the Way
Downwardly Mobile
Incarnational Leadership

Section Four: The Side-by-Side Kingdom

Knowledge Is Not Power
The Secret to Leading Leaders
Wax On and Wax Off
Catalysts for Real Change

Section Five: The Plugged-in Kingdom

Embrace Death as If Your Life Depends on It
Jesus and the Man-Purse
Praise for the Print Edition
It has been a very long time since I've read a book on leadership that moved me. Neil takes the person, the context, and God's Word, and mixes them in a powerful way for a life of leadership.
—Bob Roberts Jr., senior pastor, Northwood Church, Keller, TX
Organic Leadership will trouble you—but more importantly, it will challenge you. And you should read it because the church could use some troubling and a new challenge.
—Ed Stetzer, visiting professor of research and missiology, Trinity Evangelical Divinity School
A prophetic call for a more discipleship-based, grassroots, and inspirational form of leadership in our time.
—Alan Hirsch, founding director, Forge Mission Training Network
You will find insights and tools to help you and your church expand your kingdom reach.
—Bob Buford, founder, Leadership Network
Product Details
Title: Organic Leadership: Leading Naturally Right Where You Are
Author: Neil Cole
Publisher: Baker
Publication Date: 2009
Pages: 320
Resource Type: Monograph
Topic: Leadership
About Neil Cole
Neil Cole is the founder and executive director of Church Multiplication Associates, an organization that has helped catalyze the start of more than one thousand churches around the world. He is seen by many to be one of the key founders of what is known as the organic- or simple-church movement. Cole is the author or coauthor of several books, including Search & Rescue, and Cultivating a Life for God.
Reviews
What other people are saying about Organic Leadership: Leading Naturally Right Where You Are.