Being Shaped by Freedom: An Examination of Luther's Development of Christian Liberty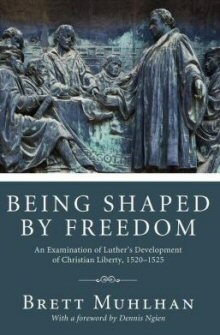 Pickwick Publications
, 2012
Overview
Did Luther get Christian freedom right? In this volume, author Brett James Muhlhan seeks to find the answer to this question by examination of two elements: What is Luther's understanding of Christian freedom? How did his understanding stand up under the pressure of reformation? Muhlhan explores both of these elements and contends that the sublime beauty of Luther's early understanding of Christian freedom—an understanding that empowered the German reformation—is consistently the same understanding he used to undermine papal heteronomy and refute radical legalism. Throughout this text, Muhlhan shares insight on how the relational character, cruciform substance, and complex structure of Luther's concept of freedom enabled him to speak both polemically and catechetically with a clear and authoritative clarity that reinvoked the magnificence of Christ and him crucified for sinners.
The Logos edition of this volume is designed to encourage and stimulate your study. This fully indexed text enables near-instant search results for words, people, places, and ideas, while Scripture references appear on mouseover in your preferred translation. Find what other authors, scholars, and theologians have to say about Luther, the Protestant Reformation, Christian liberty, and much more. With the most efficient and comprehensive research tools all in one place, you can expand your study with just a few clicks. And with Logos tablet and mobile apps, you can take your study wherever you go.
Key Features
Examines Luther's thoughts on Christian freedom
Discusses how the reformation influenced Luther's understanding
Contents
Part One: The Substance of Luther's Early Concept of Freedom

The Polemical-Historical and Theological Context of Luther's 1520 De libertate Christiana
The Freedom Tractate's Theological Anthropology and Spiritual Ontology
The Freedom Tractate's Personal and Personal-Social Imperative

Part Two: The Testing of Luther's Concept of Freedom

Testing the Personal-Social Imperative
Testing the Official-Social Imperative
Integrative Conclusion
Praise for the Print Edition
This well-researched and well-written book is a unique contribution to Luther studies. No other work so clearly and creatively demonstrates how Luther's concept of inner freedom works out in the early, difficult social situations the reformer faced. Being Shaped by Freedom is a courageous attempt to argue for and to elucidate the consistency between the reformer's practice and the indicative of reforming doctrine.
—Michael Parsons, Spurgeon's College
With clarity, precision, and insightful sensitivity, Muhlhan . . . examines how Luther's understanding of justification and freedom produces the faithful life of the believer. This refreshing analysis contributes significantly to our understanding of the holistic view of Christian righteousness fashioned by Luther's distinctions of law and gospel and of two kinds of human righteousness. This book shows how Luther's insights actually functioned in his proclamation aimed at shaping Christian consciousness and performance of God's will.
—Robert Kolb, Concordia Seminary
Brett Muhlhan displays a comprehensive knowledge of the principles and materials treated, lucidity in communicating that knowledge, and originality and independence in applying them . . . Throughout, he shows a talent for sound theological exposition, and an analytic gift to unearth the complex structure and substance of Luther's thinking . . . This monograph, a substantial study of high quality, deserves an ecumenical reception.
—From the foreword by Dennis Ngien, Tyndale Seminary
About Brett James Muhlhan
Brett James Muhlhan is postgraduate coordinator and lecturer in historical theology, systematics, and New Testament at the Perth Bible College, western Australia.
Reviews
What other people are saying about Being Shaped by Freedom: An Examination of Luther's Development of Christian Liberty.