God in Dispute: "Conversations" among Great Christian Thinkers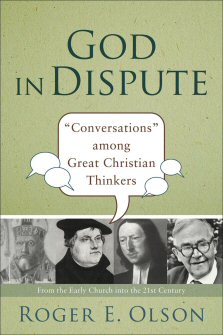 Overview
This volume creatively explores the history of Christian thought by imagining a series of 29 dialogues and debates among key figures throughout church history. It traces the history of theology via such conversation partners as Augustine and Pelagius, Calvin and Arminius, Barth and Brunner, and Bultmann and Pannenberg. Each imagined dialogue includes a brief summary that introduces the figures under consideration and places them in the history of theology, a more detailed assessment of the thinkers and theological issues presented, and a guide for further reading. This approach offers readers an entertaining, informative, and concise history of Christian thought. The book will be of use to professors and students in theology, church history, and historical theology courses and will also interest pastors and lay readers.
With the Logos edition of this volume, you can instantly access important information about dozens of prominent individuals and historical Christian events that have influenced—and continue to influence—the church. The advanced search tools in Logos Bible Software give you instant access to the subjects, topics, and individuals you're looking for. All Scripture references are also linked directly to the Bibles in your library, making God's Word instantly accessible.
Key Features
Explores theological history through imagined conversations between famous theologians
Presents a creative history of Christian thought through a variety of viewpoints
Introduces each theologian as well as their general schools of thought
Praise for the Print Edition
Most textbooks that trace the development of historical theology provide us with content, unpacking the positions of theologians and major schools of thought. While Olson's book does that, it also does much more. By bringing generations of Christian thinkers together in dialogue to discuss a number of topics, Olson helps us understand that the Christian tradition is a complex, lively, ongoing argument about what happened in Jesus Christ. And while most textbooks leave the reader an arm's length from the disputes, Olson's approach invites us into the fray as participants in the debates. This is a unique text that makes historical theology come alive.
—Dennis Okholm, professor of theology, Azusa Pacific University
God in Dispute creatively presents significant issues in Christian doctrine through imaginary dialogues between giants in the history of our faith. Professors, students, and laypeople alike will find it a valuable resource.
—Vincent Bacote, associate professor of theology, Wheaton College
Few scholars possess the creativity, historical breadth, and theological acumen to pull off a volume like this. If Roger Olson's fictionalized discussions occasionally reveal as much about his own views as those of other Christian thinkers, then the excellence of his unusual survey of church history can be his excuse.
—Christianity Today
Historical theology doesn't have to be dry, dusty, and dull. With Roger Olson as a guide, it can be downright entertaining. . . . God in Dispute collects 29 . . . insightful dialogues involving great Christian thinkers from the early church to the present. . . . He presents the key ideas of each speaker through lively—and sometimes humorous—dialogue. . . . For readers who want to dig deeper, each dialogue ends with a list of suggested books for further reading. But for those who are content with a sampling, Olson provides a painless introduction to some of the greatest Christian thinkers in history.
—Baptist Standard
[Olson] offers an intriguing approach to learning about the history of Christian theology. Using 29 imaginary conversations between two or more luminaries of Christian thought, he writes an easily understandable introduction not only to the conversational partners but also to the particular theological issues of every Christian epoch. . . . Even though the author takes pains to acknowledge that these conversations are imaginary, they do have an appropriate historical feel. Olson also makes a very helpful contribution in the setting he offers for each conversation; one understands exactly the context for the content. . . . For readers unfamiliar with this material, the book is an easy-to-read resource, and a list of further readings appears at the end of each selection. . . . Recommended. Lower- and upper-level undergraduates; general readers.
—Choice
On a number of levels, Olson succeeds in bringing these figures to life, so to speak, for a wide range of readers not limited to students of theology. . . . The structure of the book is quite refreshing. . . . God in Dispute is an enjoyable book that covers a lot of material. Olson casts as wide a net as is reasonable not only on the issues themselves, which extend as far as evangelical theology, liberation theology, and postmodern theology, but also [on] the conversation participants. . . . Olson's humor will keep even the most cynical student engaged.
—Southwestern Journal of Theology
About Roger E. Olson
Roger E. Olson is a professor of theology at George W. Truett Theological Seminary, Baylor University, in Waco, Texas. He is a prolific author whose volumes include Reformed and Always Reforming, The Story of Christian Theology, and The Mosaic of Christian Belief. He is also coauthor of 20th-Century Theology.
Reviews
What other people are saying about God in Dispute: "Conversations" among Great Christian Thinkers.