The Identity of Jesus Christ, Expanded and Updated Edition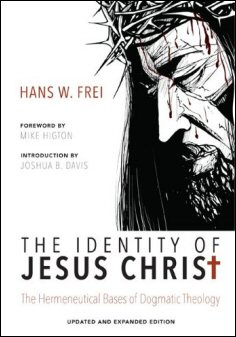 Overview
In his foreword, Mike Higton describes Hans W. Frei's Identity of Jesus Christ as "a book about Jesus of Nazareth. It is not a book about 'story,' nor about 'narrative theology.' . . . Rather, this is a book about the way in which Jesus of Nazareth's identity is rendered by the Gospels—largely the Synoptic Gospels, particularly the Gospel of Luke, and especially in the passion and resurrection sequences."
This revised and updated edition includes Mike Higton's foreword, a new critical introduction from Joshua B. Davis, and Frei's essay "Theological Reflections on the Accounts of Jesus' Death and Resurrection."
With Logos Bible Software, The Identity of Jesus Christ is enhanced with cutting-edge research tools. Scripture citations appear on mouseover in your preferred English translation. Important terms link to dictionaries, encyclopedias, and a wealth of other resources in your digital library. Powerful topical searches help you find exactly what you're looking for. Tablet and mobile apps let you take the discussion with you. With Logos Bible Software, the most efficient and comprehensive research tools are in one place, so you get the most out of your study.
Key Features
Studies the identity of Jesus as portrayed in the Gospels
Includes a new critical introduction from Joshua B. Davis
Presents the essay "Theological Reflections on the Accounts of Jesus' Death and Resurrection"
Contents
Foreword by Mike Higton
Introduction by Joshua B. Davis
Introduction: The Approach to the Problem
The Problem of Presence
The Problem of Identity
Distortions of Christ's Identity
The New Testament Depiction of Jesus Christ
The Presence of Christ
Epilogue: A Meditation for the Week of Good Friday and Easter
Theological Reflections on the Accounts of Jesus' Death and Resurrection
Praise for the Print Edition
Hans Frei has written one of the most interesting and provocative christological proposals in recent American theology. It continues to stimulate discussion and to bear fruit for the faith of the Church and the life of academic theology.
—George Hunsinger, Hazel McCord Professor of Systematic Theology, Princeton Theological Seminary
No one could have anticipated the significance of this book when it was first published. Intellectually, we simply were not ready for it. Developments in theology and philosophy that made Frei's work so important were largely unknown to the general public. Now, thank God, many have 'caught up to Frei' and can appreciate the significance of this extraordinary book. For if Frei did nothing else, he made the Gospels again property of the church.
—Stanley Hauerwas, Gilbert T. Rowe Professor of Theological Ethics, Duke University
Product Details
Title: The Identity of Jesus Christ: The Hermeneutical Bases of Dogmatic Theology
Author: Hans W. Frei
Editor: Mark Alan Bowland
Edition: Expanded and Updated
Publisher: Wipf & Stock
Publication Date: 2013
Pages: 262
Christian Group: Anglican
Resource Type: Topical
Topic: Theology
About Hans W. Frei
Hans W. Frei (1922–1988) was one of the most important American theologians of his generation. He spent the majority of his career teaching at Yale Divinity School, where he authored The Identity of Jesus Christ and The Eclipse of Biblical Narrative, numerous essays, and a vast collection of unpublished works, which have since been published posthumously.
Sample Pages from the Print Edition
Reviews
What other people are saying about The Identity of Jesus Christ, Expanded and Updated Edition.