God's Good World: Reclaiming the Doctrine of Creation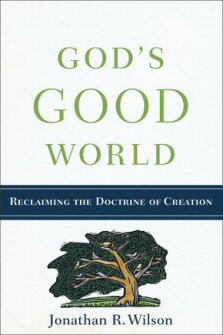 Overview
The doctrine of creation has often been neglected in Christian theology. Distinguished evangelical theologian Jonathan Wilson exposes what has been missing in current theological discourse and offers an original, constructive work on this doctrine. The book unites creation and redemption, showing the significance of God's work of creation for understanding the good news of redemption in Jesus Christ. Wilson develops a trinitarian account of the life of the world and sets forth how to live wisely, hopefully, peaceably, joyfully, and generously in that world. He also shows how a mature doctrine of creation can help the church think practically about contemporary issues, including creation care, sexuality, technology, food and water, and more.
Essential for students, scholars, pastors, and laypeople, this informative volume brings fresh perspectives on theological matters. With the Logos Bible Software edition, searching by topic or Scripture references will further help your understanding—you'll compare, for example, the systematic theologies of various scholars or denominations.
Key Features
Discusses the doctrine of creation by uniting concepts of creation and redemption
Examines how a doctrine of creation can help look at contemporary issues in the church
Contents
Part 1

Missing Creation in the Church
Missing Creation in the Academy
Missing Creation in Society

Part 2

The Dialectic of the Kingdom
One Creator: Father, Son, and Spirit
Remapping the Doctrine of Creation
Rereading Scripture

Part 3

Construing the World
Whatever Happened to Worldliness?
Consuming Desire
Stories, Practices, Prayers
Blessed Are the Meek
Being and Becoming Persons
Praise for the Print Edition
God's Good World is a very important book. By pointing out how a robust doctrine of creation has been missing—from the church, from education, and from society at large—Jonathan Wilson shows why evangelical engagement with our world is so feeble. He then lays the foundation for a much richer life by showing the necessary connections between redemption and creation. Most important, he shows how we can build on that Trinitarian foundation—in our attitudes toward the body, 'consuming,' the internet, business, and much more—all in the light of transformed worship. All Christians should read this book.
—Loren Wilkinson, professor, Regent College
Wilson is right; the modern church has been 'missing basic research on the doctrine of creation.' As a result, we modern Christians have very often fallen prey to, or even been cheerleaders for, many of the most self-destructive habits of our age. This book should be mandatory reading for pastors, theological students, and believers who care about the burning moral issues of our day and want to rethink them theologically.
—Brian Brock, reader, King's College, University of Aberdeen
About Jonathan R. Wilson
Jonathan R. Wilson earned his PhD from Duke University and is currently the Pioneer McDonald Professor of Theology at Carey Theological College in Vancouver, British Columbia. He previously taught at Acadia Divinity College and Westmont College, and has served as a pastor. He is the author of numerous books, including Living Faithfully in a Fragmented World, A Primer for Christian Doctrine, and God So Loved the World.
Reviews
What other people are saying about God's Good World: Reclaiming the Doctrine of Creation.