Union with Christ: Reframing Theology and Ministry for the Church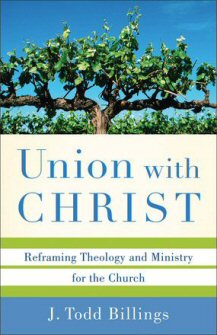 Overview
Accomplished theologian J. Todd Billings recovers the biblical theme of union with Christ for today's church, making a fresh contribution to the theological discussion with important applications for theology and ministry. Drawing on Scripture and the writings of figures such as Augustine, Calvin, Bavinck, and Barth, Billings shows how a theology of union with Christ can change the way believers approach worship, justice, mission, and the Christian life. He illuminates how union with Christ can change the theological conversation about thorny topics such as total depravity and the mystery of God. Billings also provides a critique and alternative to the widely accepted paradigm of incarnational ministry and explores a gospel-centered approach to social justice. Throughout, he offers a unique and lively exploration of what is so amazing about being united to the living Christ.
Essential for students, scholars, pastors, and laypeople, this informative volume brings fresh perspectives on theological matters. With the Logos Bible Software edition, searching by topic or Scripture references will further help your understanding—you'll compare, for example, the systematic theologies of various scholars or denominations.
Key Features
Presents the idea of a theology of union with Christ
Examines the ways union with Christ can affect different aspects of Christian life
Builds upon Scripture and the works of Augustine, Calvin, and others
Contents
Salvation as Adoption in Christ: An Antidote to Today's Distant yet Convenient Deity
Total Depravity in Sin, Total Communion in Christ: How the Bondage of the Will Mirrors a Theology of Salvation as Communion
Encountering a Mystery in Union with Christ: On Communion with the Incomprehensible God
The Gospel and Justice: Union with Christ, the Law of Love, and the Lord's Supper
Ministry in Union with Christ: A Constructive Critique of Incarnational Ministry
Praise for the Print Edition
An important book on an important topic. Billings brings his expertise regarding Calvin to bear not only on misconceptions about the great Reformer, but also on contemporary misconceptions of Christ and Christian ministry. He offers an accessible and rewarding study, demonstrating that the centrality of union with Christ can solve many theological problems in a way that has direct practical significance for today.
—George Hunsinger, Hazel Thompson McCord Professor of Systematic Theology, Princeton Theological Seminary
Drawing upon the likes of Augustine, Calvin, Bavinck, and others, Todd Billings ably demonstrates why the biblical truth of union and communion with God has had such historical and theological significance. Thankfully, he doesn't leave us out of the story. Along the way he highlights why union with Christ continues to matter for our understanding of the Christian life, making insightful connections between adoption and participation, incomprehensibility and accommodation, justice and Eucharist, grace and action. Let Billings take you into a deeper appreciation of what it means to be united to Christ—you won't regret it.
—Kelly M. Kapic, professor of theological studies, Covenant College
About J. Todd Billings
J. Todd Billings is an associate professor of Reformed theology at Western Theological Seminary in Holland, Michigan, and an ordained minister in the Reformed Church in America. He is the author of numerous articles and two award-winning books: Calvin, Participation, and the Gift: The Activity of Believers in Union with Christ and The Word of God for the People of God.
Reviews
What other people are saying about Union with Christ: Reframing Theology and Ministry for the Church.