Creation out of Nothing: A Biblical, Philosophical, and Scientific Exploration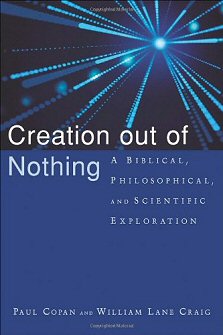 Overview
Creation out of Nothing provides a full-fledged exploration of the creatio ex nihilo (creation out of nothing) doctrine that focuses on biblical, theological, extrabiblical, philosophical, and scientific support for the doctrine.
The volume begins with a statement about the significance of creatio ex nihilo that clearly defines what is meant (and what is not meant) by the concept. The doctrine is discussed within the context of the Old and New Testaments and extrabiblical material. The volume includes discussions of the philosophical issues of creation versus conservation and the finite versus infinite past before addressing the scientific confirmation of creatio ex nihilo.
In the Logos edition, this volume is enhanced by amazing functionality. Scripture citations link directly to English translations, and important terms link to dictionaries, encyclopedias, and a wealth of other resources in your digital library. Perform powerful searches to find exactly what you're looking for. Take the discussion with you using tablet and mobile apps. With Logos Bible Software, the most efficient and comprehensive research tools are in one place, so you get the most out of your study.
Key Features
Combats the idea that creation ex nihilo is not biblical
Illustrates how the doctrine of creation ex nihilo is essential to believing Christians
Discusses the topic of creation using both the Old and New Testament as well as extrabiblical material
Contents
The Old Testament Witness to Creatio ex Nihilo
The New Testament Witness to Creatio ex Nihilo
The Extrabiblical Witness to Creatio ex Nihilo
Understanding the Notion of Creatio ex Nihilo
Creatio ex Nihilo and Abstract Objects
Philosophical Arguments for Creatio ex Nihilo
Scientific Evidence for Creatio ex Nihilo
Naturalistic Alternatives to Creatio ex Nihilo
Praise for the Print Edition
Few classical Christian doctrines have been subjected to as much criticism in the past two hundred years as the claim that God created the world 'out of nothing.' In this brilliant book, Copan and Craig rehabilitate the doctrine. With wide learning—the authors pass skillfully among biblical, philosophical, theological, and scientific issues—and carefully constructed arguments, the authors clearly show that creation out of nothing can be defended against its critics. They also compellingly show why the doctrine is essential to believing Christians. I recommend this badly needed book with great enthusiasm.
—Stephen T. Davis, Russell K. Pitzer Professor of Philosophy, Claremont McKenna College
An excellent account of why [creatio ex nihilo] matters.
—Books & Culture
Takes a look at the various approaches on [the question of ex nihilo creation] and comes away with a clear word on the matter. . . . Copan and Craig dive into one of the tough questions facing anyone trying to make sense of the world. . . . While this particular question may not arise in every conversation, this book will help with a well reasoned response when someone wonders 'how did it all begin.'
—Creation Research Society
A well-arranged tour de force on creatio ex nihilo, the classical Christian doctrine of creation out of nothing. Resurrecting what theologians had neglected, Copan and Craig present the biblical, philosophical, and scientific support that underpin this doctrine.
—Science & Theology News
In Creation out of Nothing, Paul Copan and William Lane Craig have written an outstanding guide to this doctrine that belongs in the personal library of anyone who cares about the foundations of his or her faith. Replying to those who have argued that creation ex nihilo is not biblical and that the idea was imported late into Christian theology, Copan and Craig make a compelling case that the Bible teaches unmistakably that only God himself is eternal (eternality is an essential aspect of his nature) and all else that exists depends on God for its origin and being. . . . This book is well-written, but while the prose is lucid, the issues raised are profoundly difficult. Don't expect to be able to read it while watching an NFL game, but do expect to be amply rewarded with a much better grasp of a foundational Christian doctrine.
—Christian Research Journal
About the Authors
Paul Copan is the Pledger Family Chair of Philosophy and Ethics at Palm Beach Atlantic University in Florida. Previously, he taught at Georgia Perimeter College, Bethel Seminary, Alliance Theological Seminary, and Trinity Evangelical Divinity School. He is the author of several apologetics books and the president of the Evangelical Philosophical Society.
William Lane Craig is a research professor of philosophy at Talbot School of Theology and the author or editor of over 30 books, including Philosophical Foundations for a Christian Worldview.
Reviews
What other people are saying about Creation out of Nothing: A Biblical, Philosophical, and Scientific Exploration.