Preaching as Worship: An Integrative Approach to Formation in Your Church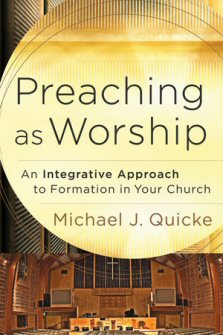 Overview
A pastor's role in shaping worship is vital. But what if preaching isn't just one part of worship? What if preaching is worship? In Preaching as Worship, veteran preacher Michael J. Quicke encourages those who preach to open their eyes afresh to glorious big-picture worship—grounded in Trinitarian theology and focused on the pivotal role of Scripture as it directs gathered worship for community formation—urging them to restore worship as an encounter with God. This unique and insightful book offers a clear call for preachers to rethink their worship responsibilities and the importance of preaching—for the sake of their church members and their God.
The Logos edition of this work on preaching is fully searchable and easily accessible. Scripture passages link directly to your English translations and to the original language texts, and important theological concepts link to dictionaries, encyclopedias, and the wealth of resources in your digital library.
Key Features
Presents a view of preaching as a form of worship
Offers a unique perspective on preaching and leading a church community
Contents
Part 1: From a Small Picture of Worship

Preaching and Worship: Is There a Problem?
Beware Myopic Preaching

Part 2: Toward a Bigger Picture of Worship

A Fuller Definition and Deeper Theology
Preaching in 360-Degree Worship
Directive Scripture with Thoughtful Liturgy: Part 1
Directive Scripture with Thoughtful Liturgy: Part 2
Toward Community Formation
Integrating Elements of Community Formation

Part 3: A New Process

Toward a New Pattern for Big-Picture Preaching
Beginning Well: Worship Swim Stage 1
Being Directed: Worship Swim Stages 2 and 3
Continuing Strong: Worship Swim Stages 4 and 5
Evaluating and Building Forward: Worship Swim Stage 6
Praise for the Print Edition
Michael Quicke's winsome and insightful exploration of preaching as an integral component and reflection of Trinitarian worship is a welcome contribution to thoughtful literature on both preaching and worship. For too long, one has been viewed as simply a prelude or culmination of the other. Quicke helps us understand how worship and preaching function organically and holistically to honor the persons of the Godhead who also comes to us as one.
—Bryan Chapell, chancellor, Covenant Theological Seminary
This book stretched me and enriched my understanding of preaching and worship.
—Craig Brian Larson, editor, PreachingToday.com
About Michael J. Quicke
Michael J. Quicke is the C.W. Koller Professor of Preaching and Communication at Northern Seminary and preaches and lectures across the world. He is the author of 360-Degree Preaching and 360-Degree Leadership.
Reviews
What other people are saying about Preaching as Worship: An Integrative Approach to Formation in Your Church.