Without a Doubt: Answering the 20 Toughest Faith Questions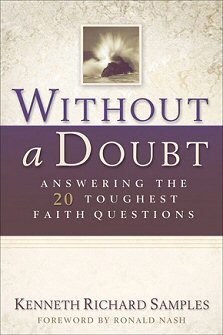 Overview
It can be difficult to answer questions about the Christian faith—even for Christians who regularly read their Bibles and attend church. What can they say to a skeptic who questions Christian doctrine or truth claims? What about young Christians who want answers to their tough questions?
Without a Doubt covers questions on everything from the doctrine of the incarnation to religious pluralism, from evolution to moral relativism, with rational answers for even the most stubborn skeptic. Authorities ranging from prophets and philosophers to scientists and the Scriptures provide rational explanations and compelling evidence for those who have questions about their or question faith altogether. Chapters contain charts, relevant biblical texts, and outlines to help readers grasp key ideas relevant to proclaiming the gospel to an unbeliever or discussing doctrine with another Christian.
In the Logos edition, this volume is enhanced by amazing functionality. Scripture citations link directly to English translations, and important terms link to dictionaries, encyclopedias, and a wealth of other resources in your digital library. Perform powerful searches to find exactly what you're looking for. Take the discussion with you using tablet and mobile apps. With Logos Bible Software, the most efficient and comprehensive research tools are in one place, so you get the most out of your study.
Key Features
Equips believers to share and defend their faith
Analyzes and supports Scripture's scientific claims
Offers a variety of aids to assist in understanding
Contents
Part One: Thinking through Questions about Faith in God

How Can Anyone Know That God Exists?
How Can I Believe in a God I Can't See?
How Has God Revealed Himself?
Aren't the Creeds a Thing of the Past?
How Can God Be Three and One?
Why Should I Gamble on Faith?

Part Two: Thinking through Questions about Faith in Jesus Christ

Are the Gospels Trustworthy Accounts of Jesus' Life?
Is Jesus a Man, Myth, Madman, Menace, Mystic, Martian, or the Messiah?
How Can Jesus Christ Be Both God and Man?
Did Jesus Christ Actually Rise from the Dead?
Why Did Jesus Christ Have to Die?

Part Three: Thinking through Objections to the Christian Faith

Don't All Religions Lead to God?
How Should Christians Respond to the World's Religions?
Aren't Christianity and Science Enemies?
Doesn't Hypocrisy Invalidate Christianity?
Don't I Have a Right to Do What I Want with My Own Body?
Doesn't Christianity Promote Intolerance?
Isn't Morality Simply in the Eye of the Beholder?
How Can a Good and All-Powerful God Allow Evil?
How Should a Christian Prepare to Give Reasons for Faith?
Praise for the Print Edition
Sample exhibits the virtues of charity and intellectual integrity along with a deep understanding of the sorts of challenges to the Christian faith that are offered in our contemporary world and must be met by the serious Christian. Without a Doubt is a wonderful work.
—Francis J. Beckwith, associate professor of church-state studies, Baylor University
Without a Doubt fills a specific void in the apologetic literature. It brings together very careful research with a reader-friendly style. A great read for anyone interested in answers to some of life's most puzzling questions.
—J.P. Moreland, distinguished professor of philosophy, Talbot School of Theology
Rarely does one find such an array of issues and quality responses under one cover, all ready for personal use or in addressing questions or challenges.
—Gary R. Habermas, distinguished professor of apologetics and philosophy, Liberty University
About Kenneth Richard Samples
Kenneth Richard Samples is a senior research scholar with Reasons To Believe, the premier science-religion think tank. An adjunct instructor of apologetics at Biola University, Samples is the author of A World of Difference.
Reviews
What other people are saying about Without a Doubt: Answering the 20 Toughest Faith Questions.