Creating Life in the Lab: How New Discoveries in Synthetic Biology Make a Case for the Creator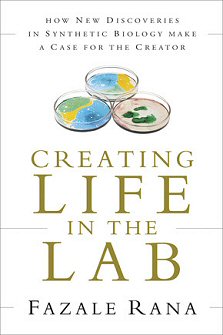 Overview
Each year brings to light new scientific discoveries that have the power to either test our faith or strengthen it—most recently the news that scientists have created artificial life forms in the laboratory. If humans can create life, what does that mean for the creation story found in Scripture?
Biochemist and Christian apologist Fazale Rana, for one, isn't worried. In Creating Life in the Lab, he details the fascinating quest for synthetic life and argues convincingly that when scientists succeed in creating life in the lab, they will unwittingly undermine the evolutionary explanation for the origin of life, demonstrating instead that undirected chemical processes cannot produce a living entity.
In the Logos edition, this volume is enhanced by amazing functionality. Scripture citations link directly to English translations, and important terms link to dictionaries, encyclopedias, and a wealth of other resources in your digital library. Perform powerful searches to find exactly what you're looking for. Take the discussion with you using tablet and mobile apps. With Logos Bible Software, the most efficient and comprehensive research tools are in one place, so you get the most out of your study.
Key Features
Details how intelligent divine planning explains the emergence of first life
Examines developments in synthetic biology through a Christian lens
Illustrates how current scientific discoveries point to creation and intelligent design
Contents
Waking Up in Frankenstein's Dream
Life Is like Music
Blessed by a New Species
Treading in the Steps Already Marked
Becoming Acquainted with the Principals—and Principles
A Scientist's Splendor
The Particulars of Life's Formation
Conquering the Challenges
Promised Impossibilities
The Agony of Reflections
United by No Link
A Thousand Other Miseries
Persevere in Exile
Praise for the Print Edition
Like it or not, a brave new world replete with synthetic biology is now upon us. Rana's book will equip lovers of the truth to think Christianly in defense of that which corresponds to reality.
—Hank Hanegraaff, president, Christian Research Institute
Beautifully details how intelligent divine planning—rather than unguided naturalistic processes—best explains the emergence of first life.
—Paul Copan, Pledger Family Chair of Philosophy and Ethics, Palm Beach Atlantic University
As Fazale Rana puts it in his significant new contribution to the growing literature on synthetic biology, to generate, sustain, and manipulate a living entity requires the intense involvement of highly intelligent beings. Rana's analysis is achieved with clarity and scientific rigor.
—Kenneth Boa, president, Reflections Ministries
An excellent resource for understanding in detail current developments in synthetic biology and origin-of-life research.
—Vern S. Poythress, professor of New Testament interpretation, Westminster Theological Seminary
About Fazale Rana
Fazale Rana is vice president of research and apologetics at Reasons To Believe. He is the author, with Hugh Ross, of Origins of Life and Who Was Adam?
Reviews
What other people are saying about Creating Life in the Lab: How New Discoveries in Synthetic Biology Make a Case for the Creator.