More Than a Theory: Revealing a Testable Model for Creation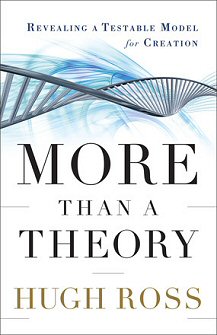 Overview
Christians are increasingly challenged with evolution theories as the only models for the origins and histories of the universe and life. But is there any valid scientifically testable alternative?
More Than a Theory offers a comprehensive, testable creation model and supplies Christians with the scientific information they need to defend their conviction that the Creator is the God of the Bible. Complete with appendices that put competing models for creation and/or evolution to the same kinds of tests, More Than a Theory is a bold and brave work that will stir profitable discussion in both the scientific and the religious realms.
In the Logos edition, this volume is enhanced by amazing functionality. Scripture citations link directly to English translations, and important terms link to dictionaries, encyclopedias, and a wealth of other resources in your digital library. Perform powerful searches to find exactly what you're looking for. Take the discussion with you using tablet and mobile apps. With Logos Bible Software, the most efficient and comprehensive research tools are in one place, so you get the most out of your study.
Key Features
Analyzes the scientific theory of creation
Defends the validity of creation by testing it with the same scrutiny as other scientific theories
Examines the heart of science and challenges it's stance as the search for truth
Contents
Is It Science?
Multiple Choice
Different Strategi
An Objective Testing Method
Resources and Standards for RTB's Model
The Biblical Structure of RTB's Creation Model
Putting RTB's Model for the Cosmos to the Test
Putting RTB's Model for Galaxies, Stars, and Planets to the Test
Putting RTB's Model for Life's Beginning and Extraterrestrial Homes to the Test
Putting RTB's Creation Model for Life's History to the Test
Putting RTB's Creation Model for Advanced Life to the Test
Putting RTB's Creation Model for the Origin and History of Humanity to the Test
Putting RTB's Creation Model to the "Why" Question Test
Putting New Atheist Cosmic Models to the Test
Putting RTB's Creation Model to the U.S. Constitution Test
Using Predictions to Test Models
Scoring the Models
Extra Credit
Praise for the Print Edition
The more we discover about the universe, the more I appreciate our Creator. And that's why I'm grateful for Hugh Ross. This book will not only expand your appreciation of God, it will stretch your faith.
—Mark Batterson, lead pastor, National Community Church
In the physical sciences, we are continually concerned with the question 'Can a theory stand up to the latest experimental results?' In this book Ross suggests a great many tests for his understanding of issues related to origins.
—Henry F. Schaefer III, Graham Perdue Professor of Chemistry, University of Georgia
To all who think that belief in a Creator requires a blind leap of faith, this book serves strong notice otherwise! The creation model is not only testable, it passes multiple scientific tests with flying colors.
—Mark Mittelberg, speaker and best-selling author
Ross effectively argues that by imposing artificial and unnecessary restraints on scientific inquiry, science loses its claim as a search for truth and simultaneously makes science less attractive to inquiring young minds. Removing those constraints unleashes the power of unbiased exploration in the quest for truth.
—Carl A. Koval, professor and interim faculty director of the Renewable and Sustainable Energy Initiative, University of Colorado
About Hugh Ross
Hugh Ross is founder and president of international and interdenominational Reasons To Believe. He is the author of many books, including The Creator and the Cosmos and More Than a Theory. An astronomer, Ross has addressed students and faculty on over 300 campuses in the United States and abroad on a wide variety of science-faith topics. From science conferences to churches to government labs, Ross presents powerful evidence for a purpose-filled universe.
Reviews
What other people are saying about More Than a Theory: Revealing a Testable Model for Creation.