Athanasius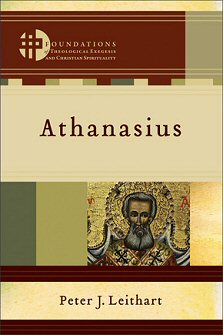 Overview
This erudite volume offers fresh consideration of the work of famous fourth-century church father Athanasius, giving specific attention to his use of Scripture, his deployment of metaphysical categories, and the intersection between the two. Peter Leithart not only introduces Athanasius and his biblical theology but also puts Athanasius into dialogue with contemporary theologians. The book draws on Athanasius' theology to shed light on contemporary theological debates and defends him against contemporary criticisms of "classical theism."
In the Logos edition, this volume is enhanced by amazing functionality. Scripture citations link directly to English translations, and important terms link to dictionaries, encyclopedias, and a wealth of other resources in your digital library. Perform powerful searches to find exactly what you're looking for. Take the discussion with you using tablet and mobile apps. With Logos Bible Software, the most efficient and comprehensive research tools are in one place, so you get the most out of your study.
Key Features
Examines the work of Athanasius as a whole
Provides a thorough introduction that offers context to the discussion
Transports the ideas of Athanasius into conversation with current theologians
Offers defense against contemporary criticism
Contents
Evangelizing Metaphysics
Types, Terms, and Paradigms
The One God
Beginnings: Word and World
Middle: God for Us
End: God Made Man, Man Made God
Praise for the Print Edition
The action of this book occurs on three levels at least: most obviously, it is a presentation of Athanasius in his confrontation with Arianism; then, too, the author conducts his own engagement with some modern and contemporary scholars both in their interpretation of Athanasius and in their treatment of the substantive questions; and finally, some perennial issues of scriptural exegesis and hermeneutics peep more directly through in many places. Peter Leithart describes his governing systematic purpose as the 'evangelization of metaphysics,' and it may be affirmed that classical doctrines of the Trinity and the incarnation here shine through in all their soteriological strength.
—Geoffrey Wainwright, Cushman Professor of Systematic Theology, Duke Divinity School
If Christian theology had superheroes, Athanasius would perhaps lead the list thanks to his sometimes single-handed struggle to maintain Trinitarian orthodoxy. Leithart's excellent study shows Athanasius to be christocentric in his biblical interpretation and theology long before Barth made it fashionable to be so. The 'sense of the Fathers' is indeed being visited upon their evangelical great-grandchildren, and with mostly salutary effect.
—Kevin J. Vanhoozer, research professor of systematic theology, Trinity Evangelical Divinity School
The knowledge [Leithart] gleaned from researching the fourth century combined with his interest in exegesis come through with striking clarity. . . . Leithart argues that Athanasius had a robust Christology that shaped each of his writings, so it is fitting that he also makes this the focus of his book. He is christocentric in numerous creative ways which add to the strength of this book. Leithart also has an impressive knowledge of the current debates and is conversant with a vast array of primary and secondary sources. . . . Athanasius is a great book for anyone interested in the Christological debates of the fourth century, TIS, or modern debates over Trinitarian issues. Leithart not only gives excellent insights into Athanasius' polemics with Arius, but he does so in a unique and fresh way. . . . Leithart should be applauded for reminding us that Athanasius can continue to speak today with great force.
—Credo
Many aspects of this work will lead readers to value Leithart's contribution. Students new to the field of patristics often search in vain for an introductory text—an issue that Leithart resolves in this book. He offers adequate citations that will introduce researchers to the key works associated with Athanasius and the broader field of study. Also, Leithart provides a helpful contribution to the field of hermeneutics in his discussion of Athanasius as a representative of the Nicene tradition of theological interpretation of Scripture. This aspect of his work helps readers understand Athanasius' exegetical approach. . . . The author provides a systematic approach to understanding Athanasius, whose lack of systematization can prove difficult for the newcomer. . . . Leithart's work is a welcome addition to the study of patristic exegesis and deserves close attention by students of historical theology. It will likely serve as an excellent option for seminary and graduate classes either as a primary text or as a resource for introducing the study of patristic theology.
—Themelios
Reviews
What other people are saying about Athanasius.