God Is Faithful: A Daily Invitation into the Father Heart of God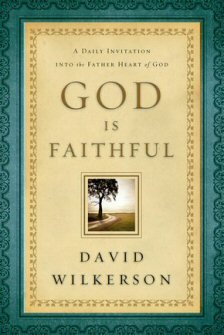 Overview
David Wilkerson was devoted to seeking and serving the Lord. Through the ministries he founded—Teen Challenge, World Challenge, and Times Square Church—Dave helped transform lives all over the world. This book honors his tremendous spiritual legacy. Mined from his personal writings, it offers 365 insightful, inspiring reflections that reveal the loving heart of the Father. Each day in this year-long devotional journey, you can experience what Wilkerson knew intimately and preached passionately to all: God is faithful and he takes great delight in you.
The Logos edition of this work on preaching is fully searchable and easily accessible. Scripture passages link directly to your English translations and to the original language texts, and important theological concepts link to dictionaries, encyclopedias, and the wealth of resources in your digital library.
Key Features
Features daily devotionals for a year-long period
Collects thoughts and reflections from Wilkerson's personal writings
Encourages readers with the depth of God's love
Contents
The Father Heart of God: He Delights in Us, His Children
God's Hand of Goodness: He Delights in Blessing Us
A Believing Heart: He Delights in Our Faith
The Life of Prayer: He Delights in Intimacy with Us
God's Healing Hand: He Delights in Restoring Us
Holy Before the Lord: He Delights in Our Obedience
Sharing God's Burden: He Delights in Our Service
Help Is on the Way: He Delights in Helping Us
God Has Everything Under Control: He Delights in Planning Our Future
Praise for the Print Edition
My friend Dave Wilkerson's voice continues to speak words of encouragement to people of faith. You will be blessed daily as you meditate on his devotional thoughts from the Word of God.
—Jim Cymbala, pastor, The Brooklyn Tabernacle, NY
The life and witness of David Wilkerson is a testimony to the power of Holy Spirit ministry and the wisdom and sanity of a life lived in alignment with God's Word and ways. This devotional guide will doubtless assist many on the pathway to such a Christ-honoring lifestyle.
—Jack W. Hayford, chancellor, The King's University
About David Wilkerson
David Wilkerson (1931–2011) was the founder of Teen Challenge and World Challenge and longtime senior pastor of Times Square Church. He authored more than 30 books, including the bestsellers The Cross and the Switchblade and Knowing God by Name. He ministered to people worldwide, and on the day of his death, he was still ministering.
Reviews
What other people are saying about God Is Faithful: A Daily Invitation into the Father Heart of God.