Encountering Missionary Life and Work: Preparing for Intercultural Ministry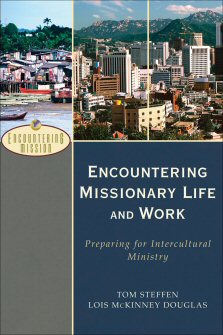 Overview
A generation of students preparing for intercultural mission work has relied on the classic text Life and Work on the Mission Field by J. Herbert Kane, a guide to the practicalities of missionary life. Encountering Missionary Life and Work seeks to build on Kane's work and provide practical guidance for a new generation of twenty-first-century missionaries. The authors are well qualified to write such a manual, each having served on the mission field for more than 20 years and each having taught missions at the seminary level.
The authors begin by examining the contemporary context for mission work, including the recognition that the world's mission fields are in constant and often rapid flux. They then discuss various aspects of preparing oneself for the mission field, beginning with home-front preparations and moving to on-the-field preparations. The final section deals with practical issues of missionary life and its unique challenges. The text is supplemented with case studies and many helpful sidebars for reflection and discussion.
With the Logos Bible Software edition, you have unprecedented access to resources that offer relatable and insightful material on Christian missions. The powerful search tools in your digital library help you locate the specific material relevant to you, whether it is textual or topical. Hours of biblical research can be accomplished with the simple click of a mouse. All Scripture passages in this volume link to your favorite Bible translation in your library. You can perform powerful searches by topic and find what other authors, pastors, and theologians have to say, making this series ideal for studying contemporary missions.
Key Features
Offers a contemporary view on missions
Provides insight on missions' trends, developments, and issues
Analyzes the theology of mission
Contents
The Changing Scene

Remembering the Past
Understanding Key Ideas and Terms

Home-Front Preparations

Decision Making and the Will of God
Spiritual Formation
Personal Readiness
Ministry Readiness
Avenues to Cross-Cultural Ministries
Finding Your Niche
Getting Going

On-Field Preparations

What Is Culture?
At Home in the Culture
Culture and Language Acquisition

Missionaries and Their Lives

Women in Missions
Missionary Families
Crises in Missions
Reentry
What's Next?
Praise for the Print Edition
This book is a wonderful introduction to missionary life and work, addressing most of the questions that a person might ask about a possible career in Christian missions. Steffen and McKinney Douglas emphasize that preparation for missionary effectiveness begins first and foremost in one's relationship to God and then in one's relationships to God's people. They also address most of the practical questions—support, agency, culture, language, family, schooling—related to the daily life and work of a missionary. This is an excellent resource for introductory missions classes in any training context.
—Sherwood Lingenfelter, emeritus provost and professor of anthropology, Fuller Theological Seminary
Tom Steffen and Lois McKinney Douglas have produced a work that is sure to become a classic text for those who anticipate ministry in another culture. Encountering Missionary Life and Work goes beyond any merely academic approach to cross-cultural ministry. It focuses on the lifetime development of deeper spirituality, self-understanding, and relationships essential for effective ministry that honors God in a global context. Tom and Lois write from a rich background in effective cross-cultural ministry and years of preparing others for such ministry. I anticipate using their text in my own classes. Others have written effectively on missionary life and work, but this text is for today's missionary and suits the dynamic world situation that confronts us.
—Michael Pocock, senior emeritus professor of world missions and intercultural studies, Dallas Theological Seminary
A book strong on background and theory for the student of missions. . . . The authors do a good job of referring the reader to up-to-date web and print resources for further exploration. . . . A useful text for an introductory missions course and a worthwhile basic reference for field missionaries or mission-minded Christians.
—Stone-Campbell Journal
[This text] introduces a new generation of students to mission and missionary service. . . . Each chapter contains sidebars and case studies designed to engage the class in discussion and reflection on the subject highlighted in the section. At the end of each chapter is a summary, often suggesting implications, definitions, or applications. . . . This volume will be useful in cross-cultural courses in Bible colleges, universities, and seminaries.
—Bibliotheca Sacra
Steffen and McKinney Douglas are well qualified to guide twenty-first-century cross-cultural workers into the future. . . . Encountering Missionary Life and Work is an easy-to-read contemporary textbook geared for the dynamic, global challenges that will face the short-term or career missionary. . . . Appropriate case studies and many personal anecdotal sidebars are incorporated into most of the 17 chapters. Over 120 helpful websites . . . are included in an appendix. A helpful Scripture and subject index is also provided. The authors function as two skilled conductors as they orchestrate the 350 plus contemporary contributions into an engaging production. Here is a practical twenty-first century resource tool that will enhance the training of future missionaries at the college and graduate level. Churches involved in sending short-term teams will want to include this 'must-read' in their libraries.
—Missiology
About the Authors
Tom Steffen is a professor of intercultural studies at Biola University and director of the Doctor of Missiology program. He served as a missionary for 20 years in Southeast Asia.
Lois McKinney Douglas is emerita professor of mission at Trinity Evangelical Divinity School. She served as a missionary for 23 years with the Conservative Baptist Foreign Mission Society.
Reviews
What other people are saying about Encountering Missionary Life and Work: Preparing for Intercultural Ministry.