The Miracles: Exploring the Mystery of Jesus' Divine Works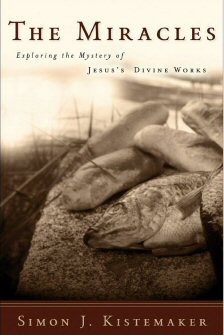 Overview
Most Christians know the stories of Jesus healing people, calming storms, and turning water into wine, but many are less sure why Jesus did these things or how they relate to their lives today. In The Miracles, Simon J. Kistemaker carefully examines each of Jesus' miracles. He lays out the cultural background, explains symbolism and Old Testament connections, and fleshes out the details of each story. Each chapter also includes a section focused on how the miracle relates to the life of the modern follower of Jesus. Kistemaker's scholarly attention to detail coupled with accessible explanations and application will make this book valuable to everyone from lay readers to pastors looking for sermon material.
Studying Kistemaker's work with Logos streamlines and enhances your experience. Scripture citations link directly to English translations, and important terms link to dictionaries, encyclopedias, and a wealth of other resources in your digital library. Bolster your study of these works by cross-referencing and comparing with an extensive library of Reformed scholarship. Take your study with you using tablet and mobile apps. With Logos Bible Software, the most efficient and comprehensive research tools are in one place, so you get the most out of your study.
Key Features
Provides an overview of the different kinds of miracles in the Bible
Examines the basis and symbolism within each of Jesus' miracles
Analyzes details of the story aspect of each parable
Contents
Nature Miracles
Sick Made Well
Ears to Hear
Demons Expelled
Raised from the Dead
Eyesight Restored
Lepers Cleansed
Lame Walk Again
Miracles and Jesus
Faith Healing
Praise for the Print Edition
I love the clear, simple, yet profoundly insightful way Simon Kistemaker explores the miracles of Jesus. This is a rich and rewarding study of all the major signs and wonders recorded in the Gospels. These events illuminate our understanding of the earthly life and work of the Savior—and reveal his true glory—in a unique and powerful way.
—John MacArthur, president, Grace to You
What a wonderful book! I've been reading The Miracles devotionally and it has fed my soul and my mind. If you've never studied the miracles of Jesus, been overwhelmed by their power, and rejoiced in what Jesus does for his own, this is the place to start. Read it! You'll be so glad you did.
—Steve Brown, professor, Reformed Theological Seminary, Orlando, FL
About Simon J. Kistemaker
Simon J. Kistemaker is professor emeritus of New Testament at Reformed Theological Seminary in Orlando, Florida. Born in the Netherlands, he studied at Calvin College, and Calvin Theological Seminary before earning his ThD at the Free University in Amsterdam. He was president of the Evangelical Theological Society in 1976, and has written a number of books, including several volumes in the Baker New Testament Commentary series, begun by William Hendriksen. Kistemaker won the Gold Medallion Evangelical Book of the Year Award for four of his volumes in this series.
Reviews
What other people are saying about The Miracles: Exploring the Mystery of Jesus' Divine Works.