Wipf & Stock Eschatology Collection (2 vols.)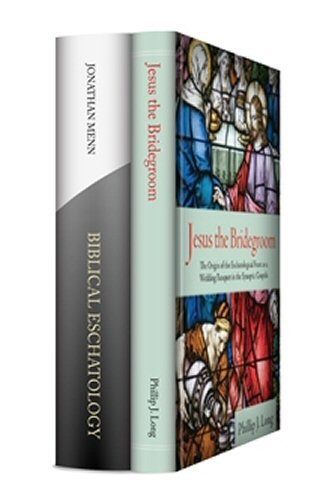 Overview
Expand your knowledge of biblical prophecy and explore the metaphor of Christ as the bridegroom with the Wipf & Stock Eschatology Collection. See how eschatology fits into the Bible as a whole, studying Scripture passages with Jonathan Menn. And examine the Old and New Testaments with Phillip J. Long to discover why Jesus compared his ministry to a wedding celebration. You'll find sound scholarship and direction for further study. This collection is an excellent resource for any student of the Bible.
In the Logos editions, these volumes are enhanced by amazing functionality. Scripture citations link directly to English translations, and important terms link to dictionaries, encyclopedias, and a wealth of other resources in your digital library. Perform powerful searches to find exactly what you're looking for. Take the discussion with you using tablet and mobile apps. With Logos Bible Software, the most efficient and comprehensive research tools are in one place, so you get the most out of your study.
Key Features
Presents a scholarly examination of eschatology
Offers insight into the metaphor of Christ as the bridegroom
Provides direction for further study
Individual Titles

Jonathan Menn discusses chapters on how to interpret prophecy and apocalyptic literature, shows the history of eschatological thought, and places eschatology in the context of the Bible's overall structure. Clarity and understanding are enhanced by the use of comparative tables and appendices. Subject and Scripture indexes are included. The book interacts with the best of Evangelical and Reformed scholarship, and the extensive bibliography provides an excellent source for further study. This is a perfect resource for intelligent Christians, including pastors, students, and teachers, who desire to understand eschatology and to see how it fits together with the rest of the Bible.
I want to commend Jonathan Menn's Biblical Eschatology heartily. This book performs a great service for the church, precisely because it is comprehensive in its treatment of all the major eschatological passages in Scripture, detailed and clear in its analysis, fair in its assessments, and passionate in its convictions. Menn identifies the importance of eschatology through its connections with the overall story line of the Bible. He helps us with important principles and guidelines for interpreting eschatological texts. And his passion for the truth of Scripture and its practical impact in the life and ministry of the church is inspiring.
—Steven C. Roy, associate professor of pastoral theology, Trinity Evangelical Divinity School
Jonathan Menn is the director of Equipping Church Leaders-East Africa. He served for six years as East Africa director of Equipping Pastors International. He travels regularly to East Africa, where he teaches pastors and church leaders.

Phillip J. Long argues that Jesus combined the tradition of an eschatological banquet with a marriage metaphor in order to describe the end of the Exile as a wedding banquet. When Jesus says in Mark 2:19 that the wedding guests should not fast "while the bridegroom is with them," he is claiming to be a bridegroom by intentionally alluding to a rich tradition from the Hebrew Bible. By eating and drinking with "tax collectors and other sinners," Jesus was inviting people to join him in celebrating the eschatological banquet. While there is no single text in the Hebrew Bible or the literature of the Second Temple Period which states the "messiah is like a bridegroom," the elements for such a claim are present in several texts in Isaiah, Jeremiah, and Hosea. By claiming that his ministry was an ongoing wedding celebration he signaled the end of the Exile and the restoration of Israel to her position as the Lord's beloved wife.
This is a careful defense for the view that Jesus himself drew up this agenda for his mission, no matter how the New Testament crafted his actual words. . . . The book serves as a good resource for the Gospel passages dealing with these three themes.
—Mark Whitters, senior lecturer of Jewish studies, Eastern Michigan University
Long does both Old and New Testament scholarship a great service with the publication of his work on the interpretation and application of the eschatological banquet. . . . In my archaeological work at Qumran, I have seen the importance of the banquet motif to the eschatology of Second Temple Judaism, and this new study demonstrates how this carried over in Jewish-Christianity, and combined with the wedding metaphor, gave the understanding and expectation of Jesus as the Bridegroom. What a wonderful work!
—Randall Price, distinguished research professor, Liberty University
Phillip Long's Jesus the Bridegroom is a fine contribution to the burgeoning field of intertextual studies. . . . Long's work is characterized throughout by judicious analysis and application of both primary and secondary sources. I warmly commend this book to anyone interested in Jesus of Nazareth and his program for the renewal of Israel.
—Joe Hellerman, professor of New Testament language and literature, Talbot School of Theology, Biola University, California
Phillip J. Long is professor of biblical studies and chair of the biblical studies division at Grace Bible College in Grand Rapids, Michigan. He has a PhD from Andrews University.
Reviews
What other people are saying about Wipf & Stock Eschatology Collection (2 vols.).