The Apocalyptic Vision and the Neutering of Adventism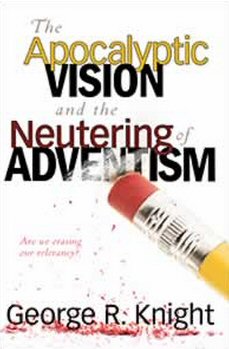 Overview
The Seventh-day Adventist church was founded upon an apocalyptic message that needed to be preached to the entire world—immediately and at any cost. But does the church today preach that same message with the same urgency? Has the Adventist church become irrelevant as it has sought to be more relevant to the world? Does the Adventist church have any reason for existence if it has lost that which makes it different from all the rest of Christianity? It is a question that should rattle Adventists. George R. Knight has been wrestling with this very question for nearly five decades.
If in fact Adventism has neutered itself, is there anything the church can do—as individuals and as a denomination—to remedy this shocking condition? Knight challenges Adventists to go back to their roots—to examine the prophecies that fueled the early Seventh-day Adventists' determination to evangelize the world. Buried within the books of Daniel and Revelation are the only reasons for the Adventist church to exist. Knight calls for Adventist's to uproot themselves from the pew in order to be truly Adventist.
With Logos Bible Software, this valuable volume is enhanced by cutting-edge research tools. Scripture citations link directly to English translations, and important terms link to dictionaries, encyclopedias, and a wealth of other resources in your digital library. Powerful searches help you find exactly what you're looking for. Tablet and mobile apps let you take the discussion with you. With Logos Bible Software, the most efficient and comprehensive research tools are in one place, so you get the most out of your study.
Key Features
Analyzes the distinct characteristics of the Seventh-day Adventist church
Studies Daniel and Revelation as the root of the Adventism
Examines how the Adventist church's mission has evolved in the last half-century
Contents
Enough of Beastly Preaching and an Introduction to Neutering
Another Look at Apocalyptic Prophecy and Adventist History
But Don't Forget the Beasts (Including the Modern Ones) and My Problem with Apocalyptic
The Fallacy of Straight-line Thinking and a Most Remarkable Prophecy
Living the Apocalyptic Vision in the Twenty-first Century
A Glimpse of Neoapocalyptic and a Belated Foreword
About George R. Knight
George R. Knight is a retired professor of church history at Andrews University Theological Seminary. He is the author of many books, including the Adventist Heritage Series, the Ellen White Series, and a devotional Bible commentary series.
Sample Pages from the Print Edition
Reviews
What other people are saying about The Apocalyptic Vision and the Neutering of Adventism.