Dark Night of the Soul (audio)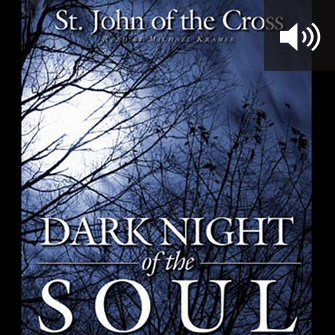 Overview
Part poetic masterpiece, part mystic treatise, The Dark Night of the Soul by sixteenth-century Carmelite monk, St. John of the Cross, addresses the feeling of being forgotten by the presence of the almighty that every Christian desirous of walking more closely with God must pass through in order to learn to walk by faith and not by sight.
Audiobooks add new dimension to your digital library. When you listen in Logos, your audiobooks sync across devices—pause a book anytime on your home computer, then pick up where you left off in your car or on your laptop. Listen on your lunch breaks, as a family, or as part of your personal devotional time. Tap into the power of Logos Bible Software in a whole new way.
Key Features
Explores the poetic musings of despair by a sixteenth-century reformer
Addresses the feeling of being forgotten by God
Provides hope of strength and growth in a closer relationship with God
About John of the Cross
John of the Cross (San Juan de la Cruz) (June 24, 1542–December 14, 1591) born Juan de Yepes Alvarez, was a major figure of the Counter-Reformation, a Spanish mystic, Catholic saint, Carmelite friar, and priest He was born at Fontiveros, Old Castile. Saint John of the Cross was a reformer of the Carmelite Order and is considered, along with Saint Teresa of Ávila, as a founder of the Discalced Carmelites. He is also known for his writings.
Reviews
What other people are saying about Dark Night of the Soul (audio).