My Utmost for His Highest: An Updated Edition in Today's Language (audio)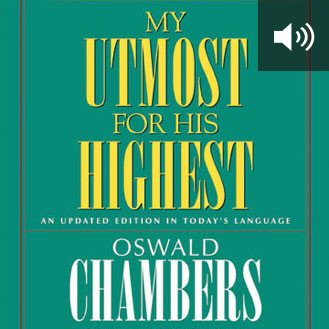 Overview
The best-selling devotional in the world is now available in audio! This revised and updated edition speaks to us in a clearer and more dynamic method than ever before. This brilliant Scotsman has influenced the lives of millions of Christians worldwide. His ability to take the weightiest of topics and apply them to everyday life is one of his greatest gifts. The aim of Oswald Chambers was all-encompassing: "to shut out every other consideration and keep yourself before God for this one thing only—My Utmost for His Highest. . . determined to be absolutely and entirely for him and for him alone."
Key Features
Applies complex spiritual topics to everyday life
Features the narration by Michael Card
Provides short daily devotions for easy listening
Praise for the Print Edition
Chambers reminded me that there is such a things as 'hungering and thirsting after righteousness,' that is not the same things as works righteousness, but rather comes from a deep desire to please the One you love the most.
About Oswald Chambers
Oswald Chambers was born in Scotland and spent much of his boyhood there. His ministry of teaching and preaching took him for a time to the United States and Japan. The last six years of his life were spent as principal of the Bible Training College in London, and as a chaplain to British Commonwealth troops in Egypt during World War 1. After his death, the books which bear his name were compiled by his wife from her own verbatim shorthand notes of his talks.
Reviews
What other people are saying about My Utmost for His Highest: An Updated Edition in Today's Language (audio).