The Pilgrim's Progress (audio)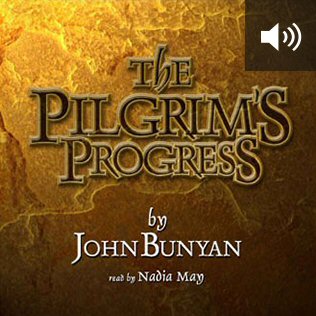 Overview
John Bunyan penned the most successful allegory ever written. He lost his first wife and was imprisoned for 12 years for his compelling—but unlicensed—preaching. Nevertheless, his preaching about the gravity of sin, salvation by grace, the cost of discipleship, perseverance, and the glory of eternal life lives on in the signs and symbols of The Pilgrim's Progress. Embark on a perilous journey with Christian, the lead character, from the City of Destruction to the luminous safe haven of the Celestial City. The journey will encourage you to "set your hope fully on the grace to be given you" amidst the obstacles of life.
Audiobooks add new dimension to your digital library. When you listen in Logos, your audiobooks sync across devices—pause a book anytime on your home computer, then pick up where you left off in your car or on your laptop. Listen on your lunch breaks, as a family, or as part of your personal devotional time. Tap into the power of Logos Bible Software in a whole new way.
Key Features
Follows one man's journey in search of salvation
Presents one of the most significant works of religious literature
Discusses virtues and vices relatable to all readers
Contents of Print Edition
The First Part

The Author's Apology
The Pilgrim's Progress, In the Similitude of a Dream
The Conclusion

The Second Part

The Author's Apology
The Pilgrim's Progress, In the Similitude of a Dream
The Author's Vindication of His Pilgrim, Found at the End of His Holy War
Product Details
Title: The Pilgrim's Progress
Author: John Bunyan
Narrator: Nadia May
Edition: Unabridged
Publisher: christianaudio Hovel
Print Publisher: P. F. Collier & Son
Runtime: 10.5 hours
Product Type: Audiobook
About John Bunyan
John Bunyan (1628–1688) is one of the most prominent Puritans of all time. Bunyan was well known as a respected preacher during his lifetime and remembered through his writing to this day—namely The Pilgrim's Progress.
After joining the Bedford Baptist Church of Bedford, England, in 1654, Bunyan began preaching in nearby villages. He was prosecuted under an Elizabethan act against nonconformity and imprisoned for three months which was extended to 12 years. Bunyan became the pastor of St. John's Church the same month as his release from prison.
The author of more than 60 books, Bunyan's The Pilgrim's Progress, Holy War, and his autobiographical book Grace Abounding to the Chief of Sinners, gained a prominent and unique place in history.
Reviews
What other people are saying about The Pilgrim's Progress (audio).