The Brothers Karamazov (audio)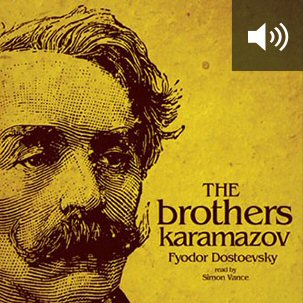 Overview
Fyodor Dostoevsky's crowning life work, The Brothers Karamazov, stands among the greatest novels in world literature. His exploration of faith, doubt, morality, and the place of suffering in life are equaled in no other work of literature, save the Bible. The book explores the possible role of four brothers in the unresolved murder of their father, Fyodor Karamazov. At the same time, it carefully explores the personalities and inclinations of the brothers themselves. Their psyches together represent the full spectrum of human nature, and continuum of faith and doubt. Ultimately this novel seeks to understand the real meaning of existence and includes much beneficial philosophical and spiritual discussion that moves the reader towards faith.
Audiobooks add new dimension to your digital library. When you listen in Logos, your audiobooks sync across devices—pause a book anytime on your home computer, then pick up where you left off in your car or on your laptop. Listen on your lunch breaks, as a family, or as part of your personal devotional time. Tap into the power of Logos Bible Software in a whole new way.
Key Features
Presents one of the greatest novels in world literature
Explores themes including faith, doubt, morality and suffering
Seeks to understand the true meaning of human existence
Contents of Print Edition
A Nice Little Family
An Inappropriate Gathering
Sensualists
Strains
Pros and Contra
The Russian Monk
Alyosha
Mitya
The Preliminary Investigation
Boys
Brother Ivan Fyodorovich
A Judicial Error
About Fyodor Dostoevsky
Fyodor Mikhaylovich Dostoevsky (November 11, 1821–February 9, 1881) was a Russian writer of novels, short stories and essays. He is best known for his novels Crime and Punishment and The Idiot. Dostoyevsky's literary works explored human psychology in the troubled political, social and spiritual context of nineteenth century Russian society.
Reviews
What other people are saying about The Brothers Karamazov (audio).