Jayber Crow (audio)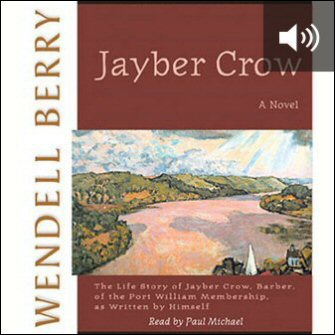 Overview
From the simple setting of his own barber shop, Jayber Crow, orphan, seminarian, and native of Port William, recalls his life and the life of his community as it spends itself in the middle of the twentieth century. Surrounded by his friends and neighbors, he is both participant and witness as the community attempts to transcend its own decline. Meanwhile Jayber learns the art of devotion and that a faithful love is its own reward.
Audiobooks add new dimension to your digital library. When you listen in Logos, your audiobooks sync across devices—pause a book anytime on your home computer, then pick up where you left off in your car or on your laptop. Listen on your lunch breaks, as a family, or as part of your personal devotional time. Tap into the power of Logos Bible Software in a whole new way.
This book contains strong or potentially offensive language.
Key Features
Offers a narrative that resonates with themes of change and how to adapt within them
Describes the decline of sustainable agriculture in America with the parallel story of one man's life
Provides a hard hitting look at the effects of industrialization on nature and the human experience
Contents of Print Edition
Part I

The Barber in Port William
Goforth
Squires Landing
The Good Shepherd
The Call
Pigeonville
The Great World
The Gathering Waters
Barber Horsefield's Successor

Part II

A Little Worter Dranking Party
An Invisible Web
The Gay Bird's Heel
A Period of Darkness
For Better, for Worse
The Beautiful Shore
Rose of San Antone
Forsaking All Others
Untold
A Gathering
How It Held Together Partly
Don't Send a Boy to Do a Man's Work
Born

Part III

The Way of Love
A Passage of Family Life
A Period of Disintegration
Finalities
A New Life
Branch
On the Edge
The Keith Place in the Way of the World
The Nest Egg
Seen Afar
About Wendell Berry
Wendell Berry has written more than 30 books, and has proven himself a writer of brilliant moral imagination. Whether he is writing about technology, family life, or small-scale farming, his vision of the human ecology is as important as any in contemporary American letters. Among the many honors he has received are a Guggenheim Fellowship, the Jean Stein Award, the T.S. Eliot Award, a Lannan Foundation Award for nonfiction, and the 2000 Poets' Prize.
Reviews
What other people are saying about Jayber Crow (audio).