90 Minutes in Heaven: A True Story of Death & Life (audio)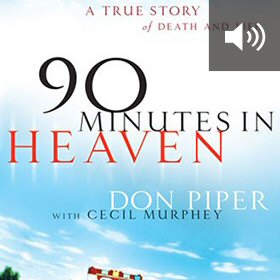 Overview
On the way home from a conference, Don Piper's car was crushed by a semi that crossed into his lane. Medical personnel said he died instantly. While his body lay lifeless inside the ruins of his car, Piper experienced the glories of heaven, awed by its beauty and music.
Ninety minutes after the wreck, while a minister prayed for him, Piper miraculously returned to life on earth with only the memory of inexpressible heavenly bliss. His faith in God was severely tested as he faced an uncertain and grueling recovery. Now he shares his life-changing story with you.
90 Minutes in Heaven offers a glimpse into a very real dimension of God's reality. It encourages those recovering from serious injuries and those dealing with the loss of a loved one. And now it is available in this audio edition, emotionally read by Don Piper himself. The experience dramatically changed Piper's life, and it will change yours too.
Key Features
Provides a personal account of the reality of Heaven
Encourages those struggling with recovery and crisis
Offers comfort to those who have recently lost someone
Contents of Print Edition
The Accident
My Time in Heaven
Heavenly Music
From Heaven to Earth
Earth to Hospital
The Recover Begins
Decisions and Challenges
Pain and Adjustments
Endless Adjustments
More Miracles
Back to Church
Opening Up
The Clasping Hand
The New Normal
Touching Lives
Finding Purpose
Longing for Home
The Why Questions
About the Authors
Don Piper has been an ordained minister since 1985 and has served in several capacities on church staffs, including six years as a senior pastor. Don has appeared on Today, The 700 Club, James Robison's Life Today, and other television and radio programs, and teaches across the United States and around the world.
Cecil Murphey has written or coauthored more than 100 books. He's won a number of awards for his writing, including the 1996 Gold Medallion award for his collaboration on the autobiography of Franklin Graham, Rebel with a Cause. A collaborator on the bestseller Gifted Hands with Dr. Ben Carson.
Reviews
What other people are saying about 90 Minutes in Heaven: A True Story of Death & Life (audio).