A Praying Life: Connecting with God in a Distracting World (audio)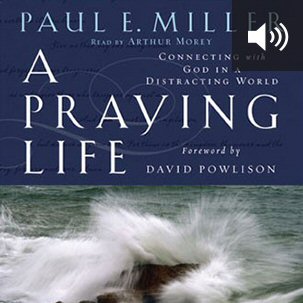 Overview
Author Paul Miller shares his insights and conclusions about how to connect the broken pieces of your life and allow prayer—even poorly delivered—to fill the gaps with meaning and substance. Miller's down-to-earth approach and practical nature will help you see that your relationship with God can grow and your communication with him can get better. Parents will find Miller's family-life experiences especially helpful.
Check out the Faithlife Ebooks edition of A Praying Life for a text version!
Key Features
Calls readers to speak with passion, honesty, and boldness in their prayers
Discusses the difference that constant communication with Christ makes in everyday life experiences
Applies the radical implications of the gospel of God's grace to prayer
Examines the concept of prayer and the construction of effective prayer lives
Contents of Print Edition
Part I: Learning to Pray Like a Child

Becoming Like a Little Child
Learn to Talk with Your Father
Learning to Be Helpless
Crying "Abba"—Continuously
Bending Your Heart to Your Father

Part II: Learning to Trust Again

Understanding Cynicism
Following Jesus out of Cynicism
Developing an Eye for Jesus

Part III: Learning to Ask Your Father

Why Asking Is So Hard
Why We Can Ask
How Personal Is God?
What Do We Do with Jesus' Extravagant Promises about Prayer
What We Don't Ask For: "Our Daily Bread"
What We Don't Ask For: "Your Kingdom Come"
Surrender Completely: "Your Will Be Done"

Part IV: Living in Your Father's Story

Watching a Story Unfold
A Father's Love
Unanswered Prayer: Understanding the Patterns of Story
How God Places Himself in the Story
Hope: The End of the Story
Living in Gospel Stories

Part V: Praying in Real Life

Using Prayer Tools
Keeping Track of the Story: Using Prayer Cards
Prayer Work
Listening to God
Prayer Journaling: Become Aware of the Interior Journey
Real-Life Praying
Unfinished Stories
Product Details
Title: A Praying Life: Connecting with God in a Distracting World
Author: Paul Miller
Narrator: Arthur Morey
Edition: Unabridged
Publisher: christianaudio Hovel
Print Publisher: NavPress
Runtime: 9 hours
Product Type: Audiobook
Christian Group: Evangelicals
Resource Type: Topical
Topic: Prayer
About Paul Miller
Paul Miller, after graduating from college, taught at inner-city Christian schools in Philadelphia for 10 years. With a group of parents, he started Spruce Hill Christian School (K–8), an inner-city, multiracial school where he was principal and teacher. In 1983, he helped his father found World Harvest Mission, serving as associate director from 1983 until 1996. During his time at World Harvest, Paul wrote several discipling courses, including a course on grace called Sonship. He is the author of several books, including The Love Course and A Praying Life.
Reviews
What other people are saying about A Praying Life: Connecting with God in a Distracting World (audio).