Twelve Ordinary Men: How the Master Shaped His Disciples, and What He Wants to Do with You (with audio)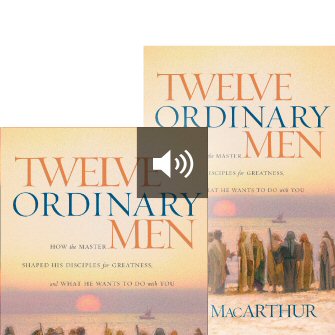 The audio portion of this product is temporarily unavailable on Android platforms.
Overview
Contrary to popular belief, we do not have to be perfect to do God's work. Look no further than the 12 disciples whose many weaknesses are forever preserved throughout the pages of the New Testament. Jesus chose ordinary men—fisherman, tax collectors, political zealots—and turned their weakness into strength, producing greatness from utter uselessness. MacArthur draws principles from Christ's careful, hands-on training of the original twelve disciples for today's modern disciple—you. This product includes the audio and Logos editions of Twelve Ordinary Men.
Audiobooks add new dimension to your digital library. When you listen in Logos, the audio syncs word-for-word with the text. Your audiobooks also sync across devices—pause a book anytime on your home computer, then pick up where you left off in your car or on your laptop. Listen on your lunch breaks, as a family, or as part of your personal devotional time. Tap into the power of Logos Bible Software in a whole new way.
Key Features
Examines the 12 men chosen by Jesus as his disciples
Explains how to turn imperfections into usable tools
Discusses how to be a light to others despite being less than perfect
Contents of Print Edition
Common Men, Uncommon Calling
Peter—The Apostle with the Foot-Shaped Mouth
Andrew—The Apostle of Small Things
James—The Apostle of Passion
John—The Apostle of Love
Philip—The Bean Counter
Nathanael—The Guileless One
Matthew—The Tax Collector and Thomas—The Twin
James—The Less; Simon—The Zealot; and Judas (Not Iscariot)—The Apostle with Three Names
Judas—The Traitor
Resources Included

Twelve Ordinary Men (audio)
Author: John F. MacArthur
Narrator: Lloyd James
Edition: Unabridged
Publisher: christianaudio Hovel
Runtime: 7 hours
Product Type: Audiobook
About John F. MacArthur
John MacArthur (1939–) is a Calvinist theologian, author, editor, and teacher. He is a popular conference speaker and the president of both The Master's College and The Master's Seminary. He has also served as pastor-teacher of Grace Community Church in Sun Valley, California since 1969. Best known for his expository sermons, Logos has collected more than 3,000 of his sermons in the John MacArthur Sermon Archive.
MacArthur's pulpit ministry extends around the globe through his media ministry, Grace to You. In addition to producing daily radio programs for nearly 2,000 English and Spanish radio outlets worldwide, Grace to You distributes books, software, and CDs by John MacArthur. He has written hundreds of books and study guides, including the bestselling John MacArthur Essential Bible Study Library and the The MacArthur Study Bible.
Reviews
What other people are saying about Twelve Ordinary Men: How the Master Shaped His Disciples, and What He Wants to Do with You (with audio).