Oxford Studies in Pentecostalism (2 vols.)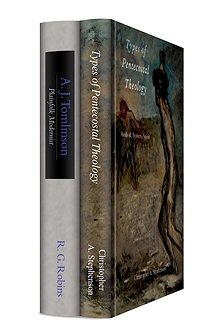 Oxford University Press
, 2004–2013
Overview
This collection offers a glimpse into the history and theology of Pentecostalism. Delve into the life of A.J. Tomlinson—a prominent figure in the early Pentecostal movement—to better understand how the movement developed. Examine Pentecostal theology with Christopher A. Stephenson as he suggests a Pentecostal theological method built on four categories of classification. Gain insights into this dynamic movement, which is one of the fastest-growing denominations in the world today.
In the Logos edition, this collection is enhanced by amazing functionality. Scripture citations link directly to English translations, and important terms link to dictionaries, encyclopedias, and a wealth of other resources in your digital library. Perform powerful searches to find exactly what you're looking for. Take the discussion with you using tablet and mobile apps. With Logos Bible Software, the most efficient and comprehensive research tools are in one place, so you get the most out of your study.
Key Features
Offers insight into the origins and development of the Pentecostal movement
Provides the first critical study of the major theologians of Pentecostalism
Engages fundamental topics of a dynamic and growing movement
Individual Titles
A.J. Tomlinson (1865–1943) ranks among the leading figures of the early Pentecostal movement, and like so many of his cohorts, he was as complex as he was colorful. Arriving in Appalachia as a home missionary determined to uplift and evangelize poor mountain whites, he stayed to become the cofounder and chief architect of the Church of God in Cleveland, Tennessee and the Church of God of Prophecy, which together with their minor offspring now constitute the third-largest denominational family within American Pentecostalism.
Roger Glenn Robins' biography recreates the world in which Tomlinson operated, and through his story offers a new understanding of the origins of the Pentecostal movement. Scholars have tended to view Pentecostalism as merely one among many anti-modernist movements of the early twentieth century. Robins argues that this is a misreading of the movement's origins—the result of projecting the modernist/fundamentalist controversy of the 1920s back onto the earlier religious landscape. Seeking to return the story of Pentecostalism to its proper historical context, Robins suggests that Pentecostalism should rightly be seen as an outgrowth of the radical holiness movement of the late nineteenth century. He argues that, far from being anti-modern, Pentecostals tended to embrace modernity. Pentecostal modernism, however, was a working class or "plainfolk" phenomenon, and it is the plainfolk character of the movement that has led so many scholars to mislabel it as anti-modern or fundamentalist. Through the compelling narrative of Tomlinson's life story, Robins sheds new light on late-nineteenth and early-twentieth century American religion, and provides a more refined lens through which to view the religious dynamics of our own day.
In this beautifully written account of the life of Ambrose Jessup Tomlinson, R.G. Robins manages to mix biography with an important theoretical revision. Few books on holiness-Pentecostalism are as insightful or as delightful to read as this one.
—The Journal of American History
Plainfolk Modernist is a welcome addition to the history of the Holiness Pentecostal movement. Robins' persuasive thesis will force American religious scholars to reconsider the usefulness of the fundamentalist-modernist paradigm for interpreting the early history of Pentecostalism.
—PNEUMA: The Journal of the Society for Pentecostal Studies
R.G. Robins has written an intriguing, insightful, and thoroughly researched revisionist interpretation of the radical holiness and early Pentecostal movements. . . .this will become a seminal work in the expanding discussion of plainfolk religion.
—Journal of Southern History
In A.J. Tomlinson, Robins has given us a vivid and unforgettable portrait of an early Pentecostal giant. His depiction of Tomlinson as a plainfolk modernist opens up a new interpretive prism for the study of the Holiness movement which gave birth to Pentecostalism. This book will also be essential reading for an understanding of the Churches of God centered in Cleveland, Tennessee which stand as monuments to Tomlinson's organizational genius.
—Vinson Synan, dean of the divinity school, Regent University
Roger Glenn Robins is assistant professor of history and political science at Marymount College in Rancho Palos Verdes, California.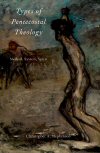 In the first critical study of the major theologians of Pentecostalism, one of the fastest growing and most influential religious traditions in the world, Christopher A. Stephenson establishes four original categories to classify Pentecostal theologians' methodologies in systematic/constructive theology. The four categories are based respectively on: the arrangement of biblical texts; the relationship between theology and Christian spirituality; doctrine concerning the kingdom of God; and pneumatology as a basis for philosophical and fundamental theology. Stephenson analyzes each methodological type and suggests a Pentecostal theological method that builds on the strengths of each. He then offers his own, original contribution, arguing for a reciprocal relationship between Pentecostal spirituality and doctrine that follows the pattern of lex orandi, lex credendi, and develops a doctrine of the Lord's Supper as a demonstration of this reciprocal relationship.
Types of Pentecostal Theology provides critical insight into such fundamental issues as the relationship between theology and philosophy, the dynamic between Scripture and tradition, and the similarities and differences between recent Pentecostal theology and other currents in contemporary theology.
For those who believe that Pentecostals do not have a systematic theology of their own, Types of Pentecostal Theology may surprise you. Christopher Stephenson has performed an insightful and compelling analysis of selected Pentecostal theologies. He demonstrates how early Pentecostals failed to meet the critical standards of the theological discipline, but contemporary Pentecostal scholars have tapped into the roots of the movement, producing promising, creative, and constructive results.
—Cecil M. Robeck Jr., professor of church history and ecumenics and director of the David du Plessis Center for Christian Spirituality, Fuller Theological Seminary
There was a time when some might have found the very idea of a systematic Pentecostal theology odd. But that time is over. Scholars and thoughtful lay people must now find their way through an ever increasing flood of often creative and insightful systematic theological writing by a wide variety of Pentecostal thinkers. How to do it? Stephenson's carefully researched, fair-minded, and highly readable book now provides an indispensable road map through this inviting but sometimes daunting landscape.
—Harvey Cox, author, The Future of Faith
As the Pentecostal movement comes of age and joins larger theological discussions of Christian beliefs, practices, and affections, scholars need a map to locate the variety of Pentecostal approaches that have emerged in the last few decades. Types of Pentecostal Theology provides that map. Focusing mainly on North America, Stephenson identifies four distinct styles of Pentecostal theology, and then adds his own voice to the mix, developing a new model based on the ancient rule of lex orandi, lex credendi. This is an impressive first book from a Pentecostal theologian who will no doubt have much to say in the years ahead.
—Douglas Jacobsen, author, Thinking in the Spirit
This volume by Stephenson joins a growing number published by Pentecostal scholars in university presses that foster Pentecostal engagement with various scholarly discourses and make this engagement accessible to the Pentecostal community.
—CHOICE
Christopher A. Stephenson is assistant professor of systematic theology at Lee University in Cleveland, Tennessee. He received his PhD in religious studies from Marquette University and has published articles in Religion Compass and The Journal of Pentecostal Theology. He regularly presents his research at the American Academy of Religion and the Society for Pentecostal Studies. He was the recipient of a dissertation fellowship from the Louisville Institute.
Reviews
What other people are saying about Oxford Studies in Pentecostalism (2 vols.).