Facts and Theories as to a Future State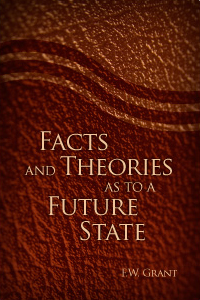 Overview
In the following pages, then, the doctrine of Scripture is what is first examined, not merely negatively an answer sought to certain views. The statement of the truth is the only proper answer to the error. This the writer has sought everywhere to keep in mind, while yet endeavoring to meet whatever has been advanced on the other side as fully as possible. Especial attention has naturally been given to certain writers who are most prominently identified with the theory of annihilation on the one hand, or of universal salvation in its various modifications upon the other; and they are allowed to speak for the most part in their own words, and at sufficient length to ensure that there shall be no doubt or mistake as to the views they hold. Among these, Mr. Constable has challenged criticism of his arguments, and to him I have naturally sought the more fully to reply. To the arguments of Mr. Roberts also, the present leader of the Christadelphian body, who has printed an extended examination of my original volume, "Life and Immortality," I have necessarily devoted considerable space, May the Lord in His pity and love to souls, for whom He has died, be pleased to use these pages for the blessing of many, and to His own glory!
-From the Introduction
Product Details
Title: Facts and Theories as to a Future State
Author: F. W. Grant
Publisher: Galaxie Software
Publication Date: 2004
Reviews
What other people are saying about Facts and Theories as to a Future State.