Continental Pietism and Early American Christianity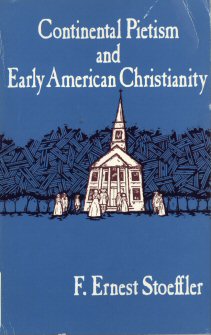 Overview
"Americans have been led to assume that the only significant religious impulses which have helped to shape their culture came out of Puritanism," says editor F. Ernest Stoeffler. The expert voices in this volume reveal that an "experiential, biblical, perfectionistic, and oppositive" pietism also greatly influenced the course of American Christianity, creating a culture that prioritized conversion over theology. In Continental Pietism and Early American Christianity, editor F. Ernest Stoeffler brings together the best-known historians of American and Christian history, providing a comprehensive single volume on the subject.
With Logos Bible Software, this volume is enhanced with cutting-edge research tools. Scripture citations appear on mouseover in your preferred English translation. Important terms link to dictionaries, encyclopedias, and a wealth of other resources in your digital library. Powerful topical searches help you find exactly what you're looking for. Tablet and mobile apps let you take the discussion with you. With Logos Bible Software, the most efficient and comprehensive research tools are in one place, so you get the most out of your study.
Key Features
Analyzes how pietism affected the religious climate of America
Brings together expert voices in the history of Christianity and America
Examines the conversion culture of American Christianity
Contents
The Influence of Pietism in Colonial American Lutheranism
Reformed Pietism in Colonial America
The Impact of Pietism Upon the Mennonites in Early American Christianity
Moravianism in the American Colonies
Radical PIetism in American History
Pietism, the Wesleys, and Methodist Beginnings in America
The Breathren in Early American Church Life
Contributors
Donald F. Durnbaugh
Franklin H. Littell
Martin H. Schrag
James Tanis
John R. Weinlick
Product Details
Title: Continental Pietism and Early American Christianity
Editor: F. Ernest Stoeffler
Publisher: Eerdmans
Publication Date: 2007
Pages: 276
Resource Type: Histories
Topic: Christianity
About F. Ernest Stoeffler
F. Ernest Stoeffler is professor emeritus of religion at Temple University, Philadelphia.
Sample Pages from the Print Edition
Reviews
What other people are saying about Continental Pietism and Early American Christianity.