A Little Exercise for Young Theologians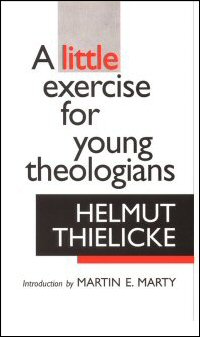 Overview
Since its first appearance in English translation in 1962, this little book has achieved near-classic status. Thousands of beginning theological students have had the opportunity to eavesdrop, as it were, on the opening lecture of a theological seminar by one of the twentieth century's leading Christian thinkers. More experienced pastors and theologians have also returned to it again and again for the valuable insights that Helmut Thielicke brings to bear on their vocation.
With Logos Bible Software, this volume is enhanced with cutting-edge research tools. Scripture citations appear on mouseover in your preferred English translation. Important terms link to dictionaries, encyclopedias, and a wealth of other resources in your digital library. Powerful topical searches help you find exactly what you're looking for. Tablet and mobile apps let you take the discussion with you. With Logos Bible Software, the most efficient and comprehensive research tools are in one place, so you get the most out of your study.
Key Features
Gives classic advice to theologians, new and experienced alike
Provides perspective on balancing theological knowledge and clear communication
Grounds theology in faith
Contents
A Preliminary Understanding with the Reader
The Anxiety of the Ordinary Christian about Theology
Unhappy Experience with a Theologian's Home-Coming
The Theological Change of Voice
The Shocks of Infatuation with Theological Concepts
Pathology of the Young Theologians's Conceit
The Wisdom of the World As the Ally of Faith
The Instinct of the Children of God
The Lofty and Difficult Art of Dogmatics
The Hazard of the Aesthetic
The Study of Dogmatics with Prayer
Sacred Theology and Diabolical Theology
On Theological Work in High Altitudes
Praise for the Print Edition
To recommend this little exercise as a thin book to put in the pocket of the beginner is not enough. The more seasoned theologian will return to it, and it will touch the pastor who has long since left the halls of theological learning.
—Harvard Divinity School Bulletin
About Helmut Thielicke
Helmut Thielicke (1908–1986) was an internationally known theologian and pastor who served as professor of systematic theology at the University of Hamburg, Germany. He wrote several books for scholars, pastors, and laypersons, including Modern Faith & Thought, Theological Ethics, and the three-volume systematic theology The Evangelical Faith.
Sample Pages from the Print Edition
Reviews
What other people are saying about A Little Exercise for Young Theologians.