Strangers and Pilgrims Once More: Being Disciples of Jesus in a Post-Christendom World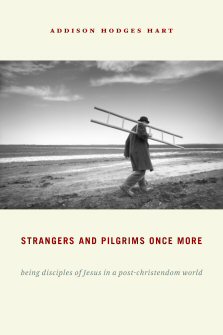 Overview
In this book, Addison Hodges Hart articulates some crucial questions for contemporary Christians: What sort of church must we become in today's post-Christendom world, where we can no longer count on society to support Christian ideals? What can we salvage from our Christendom past that is of real value, and what can we properly leave behind? How do we become "strangers and pilgrims" once more, after being "at home" in Christendom for so long?
Summoning readers to wise and faithful discipleship in our post-Christendom age, Hart suggests both how Christ's disciples can say "yes" to much that was preserved during the age of Christendom and why they should say "no" to some of the cherished accretions of that passing epoch.
With Logos Bible Software, this volume is enhanced with cutting-edge research tools. Scripture citations appear on mouseover in your preferred English translation. Important terms link to dictionaries, encyclopedias, and a wealth of other resources in your digital library. Powerful topical searches help you find exactly what you're looking for. Tablet and mobile apps let you take the discussion with you. With Logos Bible Software, the most efficient and comprehensive research tools are in one place, so you get the most out of your study.
Key Features
Summons readers to wise and faithful discipleship in the post-Christendom age
Articulates crucial questions for contemporary Christians
Discusses what is helpful and detrimental in current and past Christian culture
Contents
Saying Yes to Christianity, and No to Christendom
Saying Yes to Dogma, and No to Dogmatism
Say Yes to the Bible and No to Biblicism
Saying Yes to Sacramental Unity, and No to Sacramental Disunity
Saying Yes to Evangelism, and No to Polemicism
Conclusion: Pitching Our Tents and Passing Through
Praise for the Print Edition
This excellent book is both clear and courageous! It describes the fundamental changes that must take place for re-forming the Christianity that most of our denominations have accepted as the only available model of church. Addison Hodges Hart honors history, Scripture, and theology—and puts them together very wisely.
—Richard Rohr, founder, Center for Action and Contemplation, Albuquerque, New Mexico
Thoughtful Christians often lament that our leaders are characterized by ignorance on fire on the one hand and intelligence on ice on the other. In Addison Hodges Hart, however, we have intelligence on fire. In Strangers and Pilgrims Once More he makes bold and sensible proposals for a positive and robust Christian discipleship. I have great respect for this author and this book.
—Brian D. McLaren, author, We Make the Road by Walking
Product Details
Title: Strangers and Pilgrims Once More: Being Disciples of Jesus in a Post-Christendom World
Author: Addison Hodges Hart
Publisher: Eerdmans
Publication Date: 2014
Pages: 156
Christian Group: Evangelicals
Resource Type: Topical
Topic: Discipleship
About Addison Hodges Hart
Addison Hodges Hart is a retired pastor and college chaplain presently living in Norway. He is also the author of The Ox-Herder and the Good Shepherd, Taking Jesus at His Word, and The Yoke of Jesus.
Sample Pages from the Print Edition
Reviews
What other people are saying about Strangers and Pilgrims Once More: Being Disciples of Jesus in a Post-Christendom World.