Eerdmans Christine Pohl Collection (2 vols.)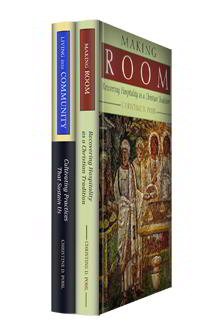 Overview
Discover and develop the Christian practices that create vibrant community with Christine D. Pohl's experienced counsel. Move beyond a skeptical or romanticized picture of fellowship, and discover what it takes to truly engage and sustain real community. This collection includes Pohl's outstanding study, Living into Community, which provides thoughtful discussion of gratitude, promise-keeping, truth-telling, and hospitality as central habits of healthy communities, helping you to develop them in your own family, church, or organization. Coupled with this volume is Pohl's Making Room: Recovering Hospitality as a Christian Tradition. Designed for use by individuals or small groups, this volume provides a variety of ways in which people can learn more about the neglected Christian tradition of hospitality and how to live it out today.
With Logos Bible Software, these volumes are enhanced with cutting-edge research tools. Scripture citations appear on mouseover in your preferred English translation. Important terms link to dictionaries, encyclopedias, and a wealth of other resources in your digital library. Powerful topical searches help you find exactly what you're looking for. Tablet and mobile apps let you take the discussion with you. With Logos Bible Software, the most efficient and comprehensive research tools are in one place, so you get the most out of your study.
Key Features
Discusses four habits essential to building community
Suggests practical ways for developing real and lasting community
Reveals the Christian tradition of hospitality
Individual Titles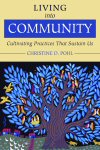 Every church, every organization, has experienced them: betrayal, deception, grumbling, envy, exclusion. They make life together difficult and prevent congregations from developing the skills, virtues, and practices they need to nurture sturdy, life-giving communities.
In Living into Community Christine Pohl explores four specific Christian practices—gratitude, promise-keeping, truth-telling, and hospitality—that can counteract those destructive forces and help churches and individuals build and sustain vibrant communities. Drawing on a wealth of personal and professional experience and interacting with the biblical, historical, and moral traditions, Pohl thoughtfully discusses each practice, including its possible complications and deformations, and points to how these essential practices can be better cultivated within communities and families.
Every Christian should read this provocative book! Christine thoroughly delineates the interlocking relationships and dangerous deformities of practices that could deepen our communities but often destroy them. This volume is pertinent to our families, churches, even places of work.
—Marva J. Dawn, author, Truly the Community
Christine Pohl was writing about community before it was hip. So now she is cutting edge. We read her stuff when we were starting our community over 10 years ago, and it felt like she was reading our minds. Now her writing almost romantically reminds us of why we do the stuff we do. This book is great for those who are veterans of community and for those who are curious or even skeptics. Christine reminds us that we are created for, and in the image of, community—but that doesn't mean it comes easy. This book is about the holy habits we need to cultivate if we are to experience and sustain real community. She is a wise scholar of community, but she's also sort of a community groupie—of the best sort—she knows all the cool "bands" and has some amazing stories to tell. This new book is a gift to all of us who are longing to know that.
—Shane Claiborne, cofounder, The Simple Way
Christine Pohl's Living into Community is truly a beautiful book. Pohl moves beyond abstractions about the church as alternative community by offering careful analysis of four core practices that sustain healthy community: gratitude, promise-keeping, truthtelling / living truthfully, and hospitality. With each of these practices, Pohl 'goes under the hood,' one might say, offering detailed discussions of their biblical-theological dimensions, the complications involved in attempting to practice them in contemporary western cultures, and their noxious and destructive deformations: envy, grumbling, betrayal, deception, and exclusion. This book is a worthy successor to Pohl's groundbreaking Making Room and certainly cements her role in the contemporary Christian community . . .
—David P. Gushee, distinguished university professor of Christian ethics, Mercer University
A gem of a book—wise and practical, profound and accessible, analytical and beautiful. Too often people extol and romanticize 'community' without grappling with the concrete challenges of living into community and sustaining it for the long haul. But Pohl guides us into practices and commitments that transform our longing for community into what 1 Timothy calls 'the life that really is life.' An ideal book for lay study groups or college and seminary classes.
—L. Gregory Jones, author, Embodying Forgiveness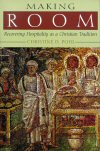 Although hospitality was central to Christian identity and practice in earlier centuries, our generation knows little about its life-giving character. Making Room revisits the Christian foundations of welcoming strangers and explores the necessity, difficulty, and blessing of hospitality today.
Combining rich biblical and historical research with extensive exposure to contemporary Christian communities—the Catholic Worker, L'Abri, L'Arche, and others—this book shows how understanding the key features of hospitality can better equip us to faithfully carry out the practical call of the gospel.
About Christine Pohl
Christine D. Pohl is associate provost and professor of Christian social ethics at Asbury Theological Seminary, Wilmore, Kentucky.
Reviews
What other people are saying about Eerdmans Christine Pohl Collection (2 vols.).