Judaism and Christianity (3 vols.)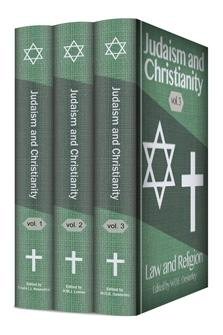 Overview
The relationship between Judaism and Christianity is complex. In this collection, learn how Christianity emerged from Judaism, and how each religion intersected and departed from the other. Examine the role of law in each faith, and discover the ways Pharisaism interacted with non-Jewish cultures.
In the Logos edition, of the Judaism and Christianity Collection is enhanced by amazing functionality. Scripture citations link directly to English translations, and important terms link to dictionaries, encyclopedias, and a wealth of other resources in your digital library. Perform powerful searches to find exactly what you're looking for. Take the discussion with you using tablet and mobile apps. With Logos Bible Software, the most efficient and comprehensive research tools are in one place, so you get the most out of your study.
Key Features
Examines the relationship between early Christianity and first-century Judaism
Provides analysis of the function of law in Christianity and Judaism
Examines how Pharasaism interacted with non-Jewish cultures
Individual Titles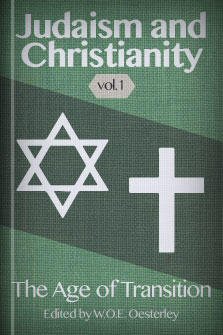 Judaism and Christianity, vol. 1: The Age of Transition
Editor: W.O.E. Oesterley
Publisher: Sheldon Press
Publication Date: 1937
Pages: 304
Examine Christianity in its nascent form as it began to develop into an independent movement and spread across the Roman Empire. Study its emergence from the apostolic generation, how its theology developed, and how Christians went from an ostracized sect to a respected social influence.
W.O.E. Oesterley (1866–1950) was professor of Old Testament at King's College, London.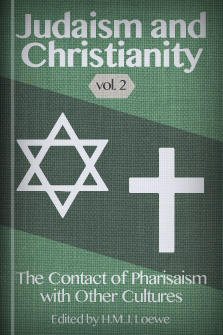 Judaism and Christianity, vol. 2: The Contact of Pharasaism with other Cultures
Editor: H. Loewe
Publisher: Sheldon Press
Publication Date: 1938
Pages: 371
Often regarded as an exclusive and legalistic expression of Second Temple Judaism, Pharisees had extensive contact with non-Jewish cultures—especially Hellenized Rome. In this second volume, examine how the Pharisees interacted with other cultures, how they reacted, and the unexpected ways in which outsiders influenced Pharisee culture.
H. Loewe (1869–1951) was the curator of Oriental Literature and reader in rabbinic theology at Cambridge University.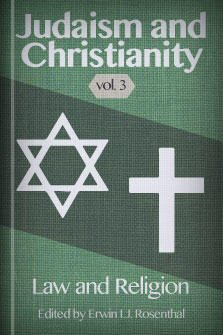 Judaism and Christianity, vol. 3: Law and Religion
Editor: Erwin I.J. Rosenthal
Publisher: Sheldon Press
Publication Date: 1938
Pages: 248
Learn the nuances, function, and understanding of law in first-century Judaism and early Christianity. A perennial question for modern biblical interpreters, the purpose of the law was also a major issue between Jews and Christians in the ancient world.
Erwin I.J. Rosenthal (1904–1991) was reader in Oriental Studies at the University of Cambridge. He is the author of Political Thought in Medieval Islam and editor of Averroes' Commentary on Plato's Republic.
Reviews
What other people are saying about Judaism and Christianity (3 vols.).