How to Study the Bible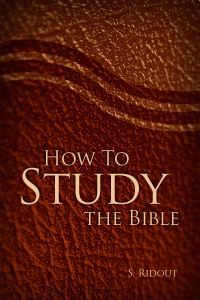 Overview
To many, a handbook on such a subject may seem needless, and an intrusion into what must ever be left to the individual alone as guided by the Spirit of God. Others, already diligent workers in this field, will find, perhaps, little to help; but it is hoped that large numbers of the Lord's people who have a longing to become better acquainted with the contents of His word may find useful suggestions in the following pages.
-From the Introduction
Product Details
Title: How to Study the Bible
Author: Samuel Ridout
Publisher: Galaxie Software
Publication Date: 2004
Reviews
What other people are saying about How to Study the Bible.