Eerdmans Preaching Resources Upgrade (3 vols.)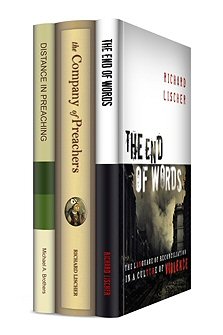 Overview
Explore three volumes of innovative preaching resources from two experienced preaching professors. In Distance in Preaching, professor Michael A. Brothers outlines how to prepare sermons that encourage listeners to bring their own experiences and ideas to the Bible. Richard Lischer's The Company of Preachers draws on the wisdom of Christian preachers from across the centuries, presenting a warm and informative collection of insights on the art of preaching. And in The End of Words, Lischer reflects on how the information age and the terrible violence of the twentieth century have affected the way people respond to preaching.
In the Logos edition, the Eerdmans Preaching Resources Upgrade (3 vols.) is enhanced by amazing functionality. Scripture citations link directly to English translations, and important terms link to dictionaries, encyclopedias, and a wealth of other resources in your digital library. Perform powerful searches to find exactly what you're looking for. Take the discussion with you using tablet and mobile apps. With Logos Bible Software, the most efficient and comprehensive research tools are in one place, so you get the most out of your study.
Key Features
Outlines how to prepare practical sermons that interact with the listener
Surveys the wisdom of Christian preachers from Augustine to today
Reflects on how mass communication and violence affect how preaching is received
Product Details
Title: Eerdmans Preaching Resources Upgrade
Authors: Michael A. Brothers and Richard Lischer
Publisher: Eerdmans
Volumes: 3
Pages: 888
Resource Type: Topical
Topic: Preaching Resources
Individual Titles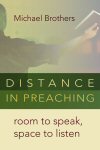 Over the last decade in his preaching classes, Michael Brothers has noticed a dramatic change in his students' responses to preaching: as listeners, they want not so much to be drawn in to a preached sermon as to be given room for their own interpretations and experiences.
In Distance in Preaching Brothers argues that critical and aesthetic distance as a hermeneutical tool is vital to hearing the gospel today and should be intentionally employed in sermon construction and delivery. Brothers explains this "distance" in the field of homiletics, equips teachers and students of preaching to evaluate the function of distance in sermons, and encourages preachers to practice the use of distance in their preaching. Insights gained from this book will give preachers greater room to speak the gospel so that their listeners get optimal space to hear the preached word.
Michael A. Brothers is associate professor of speech communication in ministry at Princeton Theological Seminary.

This unique volume draws on the wisdom of Christian thinkers and preachers from across the ages to present a warm and informative collection of insights on the art of preaching.
Gathering the writing of figures as diverse as Augustine, John Chrysostom, Jonathan Edwards, Gardner C. Taylor, and Barbara Brown Taylor, The Company of Preachers provides experienced advice on effective preaching, direct from the pens of those who have known it best. The book is arranged in seven divisions, each covering a central component of the preaching task. Editor Richard Lischer, himself a distinguished preacher and teacher, gives a brief introduction to each selection.
Aptly presenting a theological and historical cross-section of the church's homiletics, this volume will be invaluable to preachers, students preparing for ministry, and others seeking models of powerful Christian speech.
As constant and recurring as preaching is in the church, it is a practice that is endlessly inscrutable in its performance. In our time of peculiar bewilderment, the sermon is especially odd in its performance and in its possible impact. Richard Lischer's 'reader' on preaching is a reminder that we do not need to reinvent the wheel. Others before us and alongside us have thought well about the mystery of preaching. This valuable collection will benefit both beginners and veterans who may be at a point of rethinking. The representative voices in these pages invite such rethinking and make clear that preaching at its most faithful is not the property of any sect or perspective but stretches us all beyond our inclinations to the True Subject of such proclamation.
—Walter Brueggemann, former William Marcellus McPheeters Professor of Old Testament, Columbia Theological Seminary
A marvelous collection of essays. Richard Lischer has assembled a roomful of sparkling intellects for a cracking good conversation about preaching. He gathers thinkers from across the ages and around the world and invites them to share their wisdom on every major preaching theme. The result is a dialogue that bristles with energy, refreshes our memories, stretches our minds, and whets our appetites for more.
—Thomas G. Long, Bandy Professor of Preaching, Candler School of Theology, Emory University
A treasure house of homiletic wisdom! This superb collection can guide, inform and stimulate all who practice and value the Christian tradition of preaching, and who are concerned for its renewal today.
—Expository Times
Richard Lischer is the James T. and Alice Mead Cleland Professor of Preaching at Duke Divinity School.

After the horrors and violence of the twentieth century, words can seem futile. In this reflection on the place of preaching today, Richard Lischer recognizes that our mass-communication culture is exhausted by words. Facing up to language's disappointments and dead ends, he opens a path to its true end.
With chapters on vocation, interpretation, narration, and reconciliation, The End of Words shows how faithful reading of Scripture rather than flashy performance paves the way for effective preaching; Lischer challenges conventional storytelling with a deeper and more biblical view of narrative preaching. The ultimate purpose of preaching, he argues, is to speak God's peace, the message of reconciliation.
While Lischer's End of Words will surely be invaluable to pastors and preachers, his honest, readable style will appeal to anyone concerned with speaking with Christian compassion.
Writing with passion and a Lutheran conviction, [Richard Lischer] calls those who would enter the pulpit back to the preaching of the gospel of Christ crucified, and away from the slick 'PowerPoint' presentation which characterizes so much preaching today.
—Theology
[Richard Lischer] issues a challenge to return to the basics of preaching, to abandon PowerPoint and movie clips in favor of the telling and re-telling of the counter-cultural yet deeply relevant story of the cross.
—Theological Book Review
In the grand Beecher tradition of preachers like Frederich Buechner and Barbara Brown Taylor, Richard Lischer offers this book to inspire and engage those desiring to be God's mutually faithful preachers and hearers today.
—Congregations
Richard Lischer is the James T. and Alice Mead Cleland Professor of Preaching at Duke Divinity School.
Reviews
What other people are saying about Eerdmans Preaching Resources Upgrade (3 vols.).