In the Beginning and the Adamic Earth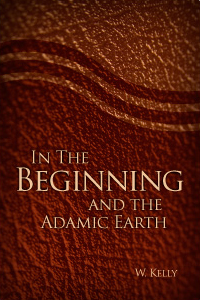 Overview
This volume consists of papers which have already appeared in the Bible Treasury and thus secured a considerable circulation. But it has been strongly urged that even those who read these successive articles desire to have them as a consecutive whole, not only for their own reconsideration, but as much or more for the help of thousands unacquainted with that periodical, and more willing to examine the exposition of Gen. 1–2:3 in a convenient collective form.
-From the Introduction
Product Details
Title: In the Beginning and the Adamic Earth
Author: William Kelly
Publisher: Galaxie Software
Publication Date: 2004
William Kelly (1823–1906), born in Ireland, moved to London after attending Trinity College in Dublin. Becoming highly involved with the Plymouth Brethren, he also became a prolific writer, earning the respect of theologians such as Henry Alford. He is quoted as having said "There are three things real—the Cross, the enmity of the world, the love of God."
Reviews
What other people are saying about In the Beginning and the Adamic Earth.