Meditations on the Song of Solomon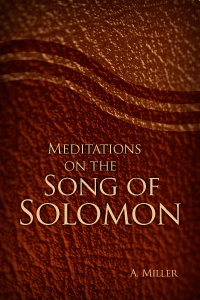 Overview
As the following Meditations were more the expression of my feelings, than any attempt at exposition, when they were written, I have not thought it right to alter a single word in a second edition. As such, they remain as a memorial of my experience at that time. And I can truly thank the Lord for any measure of communion with Him that is traceable in these pages. That He may continue to bless the little book to many precious souls is my most earnest prayer.
-From the Introduction
Product Details
Title: Meditations on the Song of Solomon
Author: Andrew Miller
Publisher: Galaxie Software
Publication Date: 2005
Reviews
What other people are saying about Meditations on the Song of Solomon.