Eerdmans George Marsden Collection (2 vols.)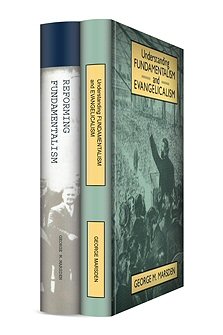 Overview
Untangling the complicated threads of American Protestant fundamentalism and evangelicalism, noted historian George Marsden sketches the religious landscape of twentieth-century America. Rich with colorful insights, these works lay out the development of fundamentalism and the evangelicalism that grew out of it.
Get a primer on the two religious movements with Marsden's Understanding Fundamentalism and Evangelicalism. Marsden provides a basic roadmap to their evolution in the United States and analyzes two especially prominent and controversial themes in these traditions—views of science and views of politics. Coupled with this study is Reforming Fundamentalism: Fuller Seminary and the New Evangelicalism. Using a case study of Fuller Theological Seminary, Marsden traces the development of and distinction between fundamentalism and evangelicalism in the seminary, while examining the broader story of American Protestantism since the 1940s.
With Logos Bible Software, these volumes are enhanced with cutting-edge research tools. Scripture citations appear on mouseover in your preferred English translation. Important terms link to dictionaries, encyclopedias, and a wealth of other resources in your digital library. Powerful topical searches help you find exactly what you're looking for. Tablet and mobile apps let you take the discussion with you. With Logos Bible Software, the most efficient and comprehensive research tools are in one place, so you get the most out of your study.
Key Features
Provides introduction to evangelicalism and fundamentalism in America
Investigates a case study of Fuller Theological Seminary
Examines American evangelicalism since the 1940s
Individual Titles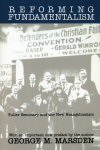 "The best telling of the story of the past," writes George Marsden, "relies on a balance of the general and the particular." In this book, a sequel and companion to his widely acclaimed Fundamentalism and American Culture, Marsden uses the history of Fuller Theological Seminary—a durable evangelical institution—as a lens through which to focus an examination of the broader story of evangelicalism and fundamentalism since the 1940s.
In fact, at the time of the school's founding in 1947, "evangelicalism" and "fundamentalism" were not considered separate entities. Though Fuller Seminary later became so thoroughly identified with the "new evangelicalism" (or neo-evangelicalism) that its fundamentalist roots are sometimes overlooked, in the school's early years it was in striking ways a fundamentalist institution with a thoroughly fundamentalist constituency.
Marsden's detailed history relies heavily on primary sources: personal recollections and correspondence of the seminary's founders, and discussions with students and staff from throughout the seminary's history. Although the story of Fuller Seminary provides the framework for this fascinating look at a segment of American religious history, Marsden's careful and knowledgeable attention to the surrounding worlds of mainline denominations and stricter fundamentalism makes this book a major contribution to the study of a movement that has played an important role in shaping American culture.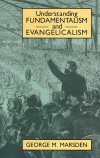 In this historical overview of American fundamentalism and evangelicalism, Marsden introduces the growing religious movements and a deeper analysis of two themes that have been especially poignant in these traditions—science and politics.
In the history-of-fundamentalism business, George Marsden remains on top.
—Christian Scholar's Review
The work will be useful as a supplementary textbook. The clarity, organization, and detail of Marsden's opening historical overview provide excellent introduction to an extraordinarily lively subject.
—Interpretation
There is perhaps no one better able to facilitate an understanding of American Protestant fundamentalism and evangelicalism than George Marsden. . . . The volume provides a helpful introduction to and interpretation of the Protestant fundamentalist movement of the twentieth century and the evangelicalism that grew out of that movement. . . . Marsden is successful in communicating his research and interpretations in a style that is clear and readable, even for those with little background in the subject. Recommended for both academic and public libraries.
—Choice
It can serve as a review for specialists in the field and as a wonderful introduction for those who are not. Professors can put it into the hands of undergraduates with the confidence that they will profit from it.
—Religious Studies Review
Anyone who is interested in this rapidly growing element in today's society will want to read this excellent analysis. Recommended for academic and public libraries.
—Library Journal
About George M. Marsden
George M. Marsden, Francis A. McAnaney Professor Emeritus of History at the University of Notre Dame, is currently a scholar in residence at Calvin College. Among his many other books is the biography, Jonathan Edwards: A Life, which received several awards, including the Bancroft Prize in history and the Grawemeyer Award in religion.
Reviews
What other people are saying about Eerdmans George Marsden Collection (2 vols.).