Eerdmans Dorothy C. Bass Collection (3 vols.)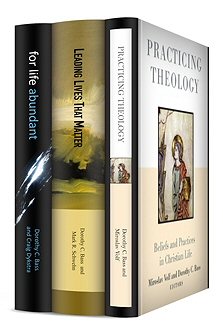 Overview
Focusing on practical theology, education, and ethics, the Dorothy C. Bass Collection equips readers to examine the intricate relationship between Christian living and Christian thought. Study the role of education in Christian life, and examine how a theologically informed outlook produces fruitful Christian living.
In the Logos editions, these volumes are enhanced by amazing functionality. Scripture citations link directly to English translations, and important terms link to dictionaries, encyclopedias, and a wealth of other resources in your digital library. Perform powerful searches to find exactly what you're looking for. Take the discussion with you using tablet and mobile apps. With Logos Bible Software, the most efficient and comprehensive research tools are in one place, so you get the most out of your study.
Key Features
Bridges the gap between theology and Christian living
Examines the relationship between education and ethics
Proposes specific traits and characteristics Christians should embody
Individual Titles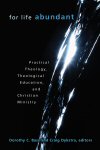 What does it mean to lead a truly "life-giving way of life"? What kinds of learning and teaching will best prepare ministers to foster such a way of life in their congregations? How might teachers of practical theology best understand and undertake their task to educate and form ministers? Respected scholars and ministers explore such questions in For Life Abundant, probing and clarifying the significance of practical theology in the classroom, in the wider academy, and in actual ministry settings.
Dorothy Bass and Craig Dykstra have been key shapers of practical theology for many years. Now they have gathered around them an outstanding team and together distilled into one book the essentials of the field. It is good theology and good practice, alert to the main intellectual, educational, pastoral, and institutional questions. The book sparkles with fresh ideas and imaginative ways of forming people and communities in line with God's purposes.
—David F. Ford, professor of divinity, University of Cambridge
This very creative and marvelous collection of stimulating, enlightening essays in practical theology responds to the gap between pastoral ministry in the field and theological education in the academy. It is a great contribution to the church—its faithful, its ministers, and, most of all, its scholars.
—Virgilio Elizondo, professor of pastoral and Hispanic theology, University of Notre Dame
These boundary-crossing writers' broad dreams are bold and refreshing.
—Christian Century
Craig Dykstra is senior vice president, religion, at Lilly Endowment Inc.

Leading Lives That Matter draws together a wide range of texts—including fiction, autobiography, and philosophy —offering challenge and insight to those who are thinking about what to do with their lives. Instead of giving prescriptive advice, Mark Schwehn and Dorothy Bass approach the subject of vocation as an ongoing conversation. They include in this conversation some of the Western tradition's best writings on human life—its meaning, purpose, and significance—ranging from ancient Greek poetry to contemporary fiction. Including Leo Tolstoy's novella The Death of Ivan Ilych as an extended epilogue, this volume will help readers clarify and deepen how they think about their own lives.
Leading Lives That Matter speaks directly to the universal desire and urgent need to know what one should do and who one should be. Its broad range of texts, each aptly chosen and engagingly introduced, arms readers with a richer, more deeply textured vocabulary for thinking about these matters and with stunning models and examples of lives wonderfully lived.
—Amy and Leon Kass, professors, University of Chicago
We are overwhelmed, we are self-absorbed, we feel melancholy emptiness—most of us and more often than we like. Yet we long for our lives to contribute to something truly great, something that transcends our individual selves. Here is an excellent tool that helps us reflect on how our lives acquire depth and weight, that offers guidance about who we should be and what we should do if we are to lead lives that truly matter.
—Miroslav Volf, director, Yale Center for Faith and Culture, Yale Divinity School
An elegantly crafted anthology and a treasure trove for the soul. Nuggets of insight, a gem of a story, or a strand of meaningful argument will capture your eye, reshape your heart and mind, and strengthen your resolve to listen more attentively—in the good company of these many authors—to the haunting, healing, creative sense of calling that yields the gift we call vocation—a life of meaning, purpose, and significance. Claim this book for yourself—and several more copies for the people you love.
—Sharon Daloz Parks, author, Leadership Can Be Taught
How can I earn a living while living a worthwhile life? Leading Lives That Matter includes some of the most insightful authors to write about this question in a contemporary (or timeless) idiom. Highly recommended.
—Mark U. Edwards Jr., professor of the history of Christianity, Harvard Divinity School
Mark R. Schwehn is professor of humanities in Christ College and project director of the Lilly Fellows Program in Humanities and the Arts, Valparaiso University.
In a time when academic theology often neglects the lived practices of the Christian community, this volume seeks to bring balance to the situation by showing the dynamic link between the task of theology and the practices of the Christian life.
The work of 13 first-rate theologians from several cultural and Christian perspectives, these informed and informative essays explore the relationship between Christian theology and practice in the daily lives of believers, in the ministry of Christian communities, and as a needed focus within Christian education.
Although an academically rigorous read this book is recommended not just for its value to students but perhaps as a medium for those church leaders who feel distanced from their theological studies to be encouraged in their workplace and ministry.
—Themelios
A splendid contribution to one of today's vital theological conversations concerning the multiple and complex connections between Christian convictions and Christian practices. This set of essays by a diverse group of theologians avoids academic jargon but invites readers to serious analysis. The project is innovative both for its immersion in real-life situations and for its demonstration of how theology can be done collaboratively.
—Luke Timothy Johnson, Robert W. Woodruff Professor of New Testament and Christian Origins, Candler School of Theology
Practicing Theology envisions and embodies a way of theological reflection that is realistic, inspirational, and provocative. Thirteen distinguished theologians show us how theology can embrace life and engage in ministry and how it both shapes and is shaped by Christian practice. The essays examine topics such as hospitality, healing, justification, and discernment in order to explore the relationship of beliefs and practices. This is a must read for everyone who asks the question: does theology really matter? The answer, according to these theologians, is a resounding yes.
—Rebecca Chopp, chancellor, University of Denver
All too often, when people hear the word 'theology' they immediately think of abstract academic theories unrelated to real life. Each author in this book challenges this age-old notion about the split between church and academy and suggests that good theology captures a way of faithful living in all its complexity and beauty. As a practical theologian, I welcome efforts of systematic theologians—those most associated with obscure theorizing—into the enterprise of understanding faithful practices in a trying, challenging world.
—Bonnie J. Miller-McLemore, E. Rhodes and Leona B. Carpenter Professor of Religion, Psychology, and Culture, Vanderbilt Uiversity
Miroslav Volf is director of the Yale Center for Faith and Culture and Henry B. Wright Professor of Systematic Theology at Yale Divinity School. His other books include Exclusion and Embrace: A Theological Exploration of Identity, Otherness, and Reconciliation.
About Dorothy C. Bass
Dorothy C. Bass is director of the Valparaiso Project on the Education and Formation of People of Faith.
Reviews
What other people are saying about Eerdmans Dorothy C. Bass Collection (3 vols.).