Old Groans and New Songs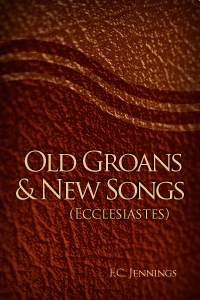 Overview
The chief object of a word of preface to the following notes is that the reader may not expect from them more, or other, than is intended. They are the result of meditations—not so much of a critical as a devotional character—on the book, in the regular course of private morning readings of the Scriptures—meditations which were jotted down at the time, and the refreshment and blessing derived from which, I desired to share with my fellow-believers. Some salient point of each chapter has been taken and used as illustrative of what is conceived as the purpose of the book. As month by month passed, however, the subject opened up to such a degree that at the end, one felt as if there were a distinct need entirely to re-write the earlier chapters. It is, however, sent forth in the same shape as originally written; the reader then may accompany the writer, and share with him the delight at the ever-new beauties in the landscape that each turn of the road, as it were, unexpectedly laid out before him.
-From the Introduction
Product Details
Title: Old Groans and New Song
Author: F. C. Jennings
Publisher: Galaxie Software
Publication Date: 2005
Reviews
What other people are saying about Old Groans and New Songs.