Revelation of Christ: Things That Shall Be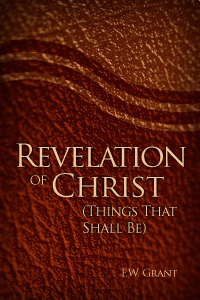 Overview
Our title to the following pages indicates our adherence in some sense to the interpretation of the book of Revelation which makes the body of it—the nineteen chapters upon which we are entering—apply to what is still for us future. Those who so apply it, what ever differences in detail there may be among them, are on this account called "futurists", in contrast with the large school of "Presentists" or "Historicalists," who find in it a progressive history of the Church from the beginning, and interpret it naturally by that history.
-From the Introduction
Product Details
Title: Revelation of Christ: Things That Shall Be
Author: F. W. Grant
Publisher: Galaxie Software
Publication Date: 2005
Reviews
What other people are saying about Revelation of Christ: Things That Shall Be.