Light in Our Dwellings: Ephesians 5-6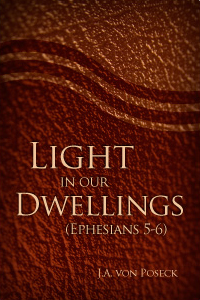 Overview
A Brother in the Lord sometime ago remarked to me, how little, in writings and oral ministry, the subject of Christian family relationships was touched upon, although, as to practical truth, there could be scarcely a more important subject than this, seeing the alarming progress of rationalism and infidelity in England as well as on the Continent, and its baneful effect upon family life, in blighting natural affect ions and undermining, especially in the rising generation the sense of reverence for all divinely instituted authorities. Being impressed with the truth of his remarks, I have since in some places, given a course of Lectures on the Christian's family relationships. But in doing so, the immense importance of the subject has grown so much upon me, that I resolved to commit them to print, only in an entirely new form and very much enlarged.
-From the Introduction
Product Details
Title: Light in Our Dwellings: Ephesians 5-6
Author: J. A. Von Poseck
Publisher: Galaxie Software
Publication Date: 2005
Reviews
What other people are saying about Light in Our Dwellings: Ephesians 5-6.