Revelation of Christ: Present Things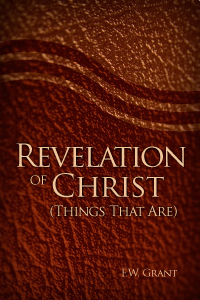 Overview
The book of Revelation is the one only book of New-Testament prophecy. As the completion of the whole prophetic Scriptures, it gathers up the threads of all the former books, and weaves them into one chain of many links which binds all history to the throne of God. As New-Testament prophecy, it adds the heavenly to the earthly sphere, passes the bounds of time, and explores with familiar feet eternity itself. Who would not, through these doors set open to us, press in to learn the things yet unseen, so soon to be for us the only realities? Who would not imagine that such a book, written with the pen of the living God Himself, would attract irresistibly the hearts of Christians, and that no exhortation would be needed for a moment to win them to its patient and earnest study?
-From the Introduction
Product Details
Title: Revelation of Christ: Present Things
Author: F. W. Grant
Publisher: Galaxie Software
Publication Date: 2005
Reviews
What other people are saying about Revelation of Christ: Present Things.