Phänomenologie des Geistes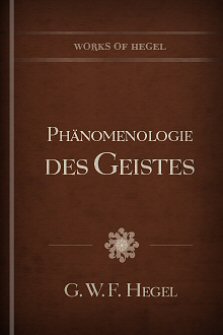 Overview
Phänomenologie des Geistes, translated as "phenomenology of mind" or "phenomenology of spirit," is Hegel's most important work. In Phänomenologie, Hegel lays out the core arguments for his whole system of theology. Originally titled Science of the Experience of Consciousness, the book takes the reader on a journey through the evolution of consciousness. Hegel argues that when the consciousness examines itself, it reveals that what appear to be fixed ideas are actually dynamic states of consciousness. The consciousness is always improving its knowledge of the objects it studies. The mind recognizes that there is a gap between its perception of a thing and the thing itself. In its attempt to close this gap, the mind modifies both its perception and what it believes to be the thing itself. The mind then takes that modified perception, notices differences between that and reality itself, and the cycle continues. Hegel argued that philosophy advances by following this process, rather than following deductive reasoning. The process—often called the Hegelian dialectic—is the foundation of Hegel's subsequent philosophy.
In the Logos edition, this volume is enhanced by amazing functionality. Scripture citations link directly to English translations, and important terms link to dictionaries, encyclopedias, and a wealth of other resources in your digital library. Perform powerful searches to find exactly what you're looking for. Take the discussion with you using tablet and mobile apps. With Logos Bible Software, the most efficient and comprehensive research tools are in one place, so you get the most out of your study.
Phänomenologie des Geistes is in German.
Key Features
Illuminates Hegel's idea of consciousness in it's original language
Discusses the evolution of philosophy based on Hegel's foundation of consciousness
Explores Hegelian dialectic and it's impact on philosophy
About Georg Wilhelm Friedrich Hegel
Georg Wilhelm Friedrich Hegel (1770–1831) was born in Stuttgart, Germany. He received his early education at the Gymnasium Illustre in Stuttgart. He entered the seminary at the University of Tubingen in 1788, graduating with a degree in theology. After graduating, Hegel tutored the children of an aristocratic family in Berlin. He left Berlin to lecture on logic and metaphysics at the university in Jena, becoming an Extraordinary Professor in 1805. Displaced by Napoleon's campaign through Prussia, Hegel took the position of editor at a newspaper in Bamberg. In 1808, Hegel left Bamberg to become headmaster of a gymnasium in Nuremberg. In 1811, he married Marie Helena Susanna von Tucher, with whom he had two sons. Hegel briefly accepted a post at the University of Heidelberg before accepting the chair of philosophy at the University of Berlin, where he remained until his death.
Reviews
What other people are saying about Phänomenologie des Geistes.