Academic Journal Bundle (420+ vols.)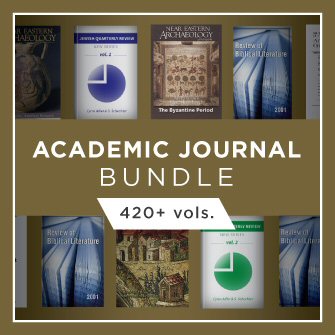 This product has been updated. Check out version 3.1 here.
This product is temporarily unavailable for purchase.
Overview
Study pivotal issues in history, critical biblical interpretation, and archaeology with distinguished scholars from around the world with the Academic Journal Bundle. Including journals that zoom in on a specific field, as well as eclectic journals that provide commentary and insight on a diversity of topics, this bundle adds impressive breadth to your library. Draw on more than 420 volumes of cutting-edge scholarship and further inform your passion for outstanding research.
The Logos Academic Journal Bundle enhances your study with amazing functionality. Fully integrated into your digital library, the Timeline enables you to instantly contextualize the people, places, and ideas discussed in the journal with thousands of other biblical and world events. Perform powerful searches to instantly gather relevant biblical texts and resources together. Free tablet and mobile apps let you take the discussion with you. With Logos Bible Software, the most efficient and comprehensive research tools are in one place, so you get the most out of your study.
This journal bundle fully integrates with the Logos 6 Journal Feature and includes specialized tagging by author, passage, and topic. To learn more, visit our Logos 6 feature page.
Key Features
Presents cutting-edge scholarship
Covers a vast range of topics related to theological inquiry
Provides journals dedicated both to the life of the church and the academy
Includes more than 420 volumes
Journals Included
Biblical Archaeologist 55–60, 6 vols. (1992–1997)
Bulletin for Biblical Research 1–23, 23 vols. (1991–2013)
Bulletin of the American Schools of Oriental Research 285–368, 84 vols. (1992–2012)
The Bulletin Series of the Near East Archaeological Society: New Series 11–58, 45 vols. (1971–2013)
Filología Neotestamentaria 1–22, 22 vols. (1988–2009)
Journal of Biblical Literature 100–125, 26 vols. (1981–2006)
Journal of Cuneiform Studies 43–64, 21 vols. (1991–2011)
Journal of Northwest Semitic Languages 1–37, 37 vols. (1975–2011)
Near Eastern Archaeology: Bulletin of the Near Eastern Archaeological Society 1–4, 6–10, 9 vols. (1958–1961, 1963–1967)
Near Eastern Archaeology 61–75, 15 vols. (1998–2012)
Semeia: An Experimental Journal for Biblical Criticism 1–91, 91 vols. (1974–2002)
Other Titles Included
Critical Review of Books in Religion, 11 vols. (1988–1998)
Review of Biblical Literature 1–9, 9 vols. (1998–2006)
Reviews
What other people are saying about Academic Journal Bundle (420+ vols.).