The Gromacki Expository Series (7 vols.)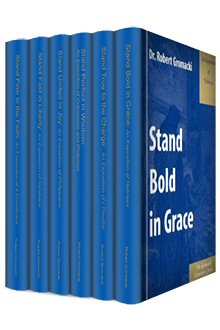 Overview
The 7-volume Gromacki Expository Series has been designed to teach the Word of God to others. Based on the English text, Dr. Gromacki uses his biblical expertise and pastoral discernment to present the meaning of the epistle in a clear and straightforward manner. Necessary technical matters and notes on the Greek are included, but they are confined to the footnotes.
These books attempt to make clear the meaning of the English text of the Bible through organization, exposition, and careful use of the Greek text. These volumes are readable studies, using a non-technical vocabulary and smooth transitions from one section to the next. The Gromacki Expository Series also contains a wealth of cross-references to supporting passages of Scripture.
Divided into thirteen chapters, these books can be used by adult Sunday school classes, Bible study groups, and other study formats. Each chapter concludes with discussion questions to stimulate personal inquiry and to make the truth of God relevant. As a commentary, it is also useful for sermon preparation.
Key Features
Introductions to the author, historical setting, purpose, and features of each book
Uses the English text and Greek transliterations
Study guides and discussion questions
Bibliography for further reading and research
Praise for the Print Edition
Thanks for [issuing] the Gromacki books. They are what pastors need today—biblically accurate and exegetically based.
Product Details
Title: The Gromacki Expository Series
Author: Robert Gromacki
Publisher: Kress Christian Publications
Volumes: 7
Pages: 1,510
Individual Titles
About Robert Gromacki
Dr. Robert Gromacki is Distinguished Professor of Bible and Greek at Cedarville University and Pastor of Grace Community Baptist Church in Washington Court House, Ohio. He is the author of fifteen books including his popular textbook, New Testament Survey. He is also a contributor to Understanding Christian Theology. Gromacki is a graduate of Dallas Theological Seminary (Th.M.) and Grace Theological Seminary in Winona Lake, Indiana (Th.D.).
Reviews
What other people are saying about The Gromacki Expository Series (7 vols.).