The Impact of the Dead Sea Scrolls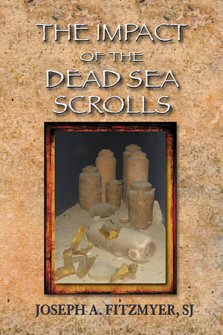 Overview
Noted Bible scholar Joseph A. Fitzmyer assesses the impact of the texts known as the Dead Sea Scrolls. Written for interested readers and students of the Bible, this book emphasizes the importance of the discovery of these texts along the northwest shore of the Dead Sea between 1947 and 1963.
In the Verbum edition, this valuable volume is enhanced by amazing functionality. Scripture citations link directly to English translations, and important terms link to dictionaries, encyclopedias, and a wealth of other resources in your digital library. Perform powerful searches to find exactly what you're looking for. Take the discussion with you using tablet and mobile apps. With Verbum Catholic Software, the most efficient and comprehensive research tools are in one place, so you get the most out of your study.
Contents
The Dead Sea Scrolls: Terminology, Discovery, and Dating
The Dead Sea Scrolls: Archaeology, the Excavation of Khirbet Qumran
The Palestinian Jewish Sect of the Essenes: History and Organization
The Languages of the Scrolls
The Scriptures in the Scrolls: Old Testament, Targums, Canon
The Use and Interpretation of Scripture in the Sect
Apocryphal, Sapiential, Liturgical, and Eschatological Literature
Beliefs and Practices of the Sect: Dualism, Eschatology, Messianism, Calendar
The Scrolls and Christianity: John the Baptist, Jesus of Nazareth, New Testament
The Scrolls and the Writings of Paul of Tarsus
The Scrolls and Johannine Writings
The Scrolls and Other Christian Writings
The Copper Scroll
The End of the Qumran Community
Product Details
Title: The Impact of the Dead Sea Scrolls
Author: Joseph A. Fitzmyer
Publisher: Paulist Press
Publication Date: 2009
Pages: 176
Resource Type: Monograph
Topic: Theology
About Joseph A. Fitzmyer
Joseph A. Fitzmyer, SJ, is professor emeritus of biblical studies at the Catholic University of America in Washington, DC. He is a noted scholar of New Testament and Aramaic, and has taught at Woodstock College, University of Chicago, Fordham University, and Weston School of Theology. In 1984 he was awarded the Berkitt Medal for Biblical Studies by the British Royal Academy. He is the American member of the Biblical Commission, president of Studiorum Novi Testamenti Societas, and past president of both The Society of Biblical Literature and the Catholic Biblical Association. He has authored over twenty books, including The Dead Sea Scrolls and Christian Origins, and he is coeditor of the New Jerome Biblical Commentary.
Reviews
What other people are saying about The Impact of the Dead Sea Scrolls.