Growing in Christ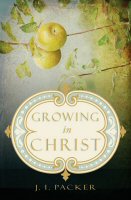 Overview
J. I. Packer outlines the differences between faith and belief to help you grow in Christ. While "belief" suggests bare opinion, "faith," whether in a car, a patent medicine, a protégé, a doctor, or a marriage partner, is a matter of treating the person or thing as trustworthy and committing yourself accordingly. The same is true of faith in God, and in a more far-reaching way.
Product Details
Title: Growing in Christ
Author: J. I. Packer
Publisher: Crossway
Publication Date: 1996
Pages: 286
Reviews
What other people are saying about Growing in Christ.