Handbook of Christian Apologetics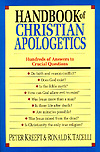 Overview
Sensible and concise, witty and wise, Peter Kreeft and Ronald Tacelli have written the guidebook on apologetics. Their mini-encyclopedia will be a welcome resource for students of apologetics, pastors, small groups, and church members interested in evangelism, student ministry workers, and those exploring for themselves the validity of the Christian faith.
Product Details
Title: Handbook of Christian Apologetics
Author: Peter Kreeft, Ronald K. Tacelli
Publisher: IVP
Publication Date: 1994
Reviews
What other people are saying about Handbook of Christian Apologetics.