Handbook To Prayer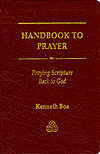 Overview
This handbook was designed to make prayer a more enriching and satisfying experience by providing both form and freedom in the practice of prayer. Ken Boa's books offer a rich resource of thought provoking ideas for lesson preparation.
Product Details
Title: Handbook To Prayer
Author: Kenneth Boa
Publisher: Trinity House
Publication Date: 1993, 1997
Reviews
What other people are saying about Handbook To Prayer.